In a short span of time, COVID-19 has altered everyday life for everyone. With social distancing guidelines, people have reconsidered and changed how they shop and get their goods which have led to a shift in consumer mindset. People have now moved to shop online, even more so than before, because of all the closures due to COVID-19 leading to new consumer 'norms' when it comes to E-commerce.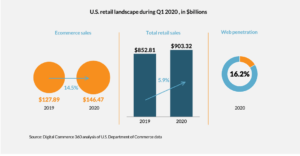 But with this online shopping trend comes a shift in expectations. With being in lockdown for months and states finally reopening slowly, customers now have different ways to obtain what they need than before which requires retailers to adapt accordingly. One result is this unforeseen rapid rise of e-commerce. But with this new online shopping traffic, stores must do all they can to provide the best customer experience and also keep up and predict trends in purchasing and act accordingly.
Amidst this global pandemic, there are many more consumers now experimenting with E-commerce. E-commerce is seen as a reliable and safe option for consumers. In fact, Gordon Haskett Research reported that one-third of shoppers bought food online during the early phase of pandemic shopping.
A Shift in Delivery Expectations
As a result, one expectation that consumers have as a result of COVID is updated in their normal delivery process. Now, being stuck at home, people want faster delivery while also being able to track their packages. Customers know that due to the pandemic, there will be issues but they are much more likely to respond positively if they know where their packages are at any given point in time. Companies can provide alerts in the shopping cart and product descriptions of the available delivery options for different products. For example, companies can allow for a 'curbside pickup' for consumers that want to be proactive. Customers want to know as much shipping information as possible and this requires transparency from the retailer's end. For example, there can be changes in the delivery time, and having a heads up makes the consumer more tolerant of changes. These options also allow an opportunity for consumers to pay for different shipping options that can carry into a post-corona world.
Another trend to notice that has been adopted by many companies is contactless delivery. With the rise of coronavirus, there has been an emphasis on social distancing and avoiding as much contact as possible that is changing our world's regular norms. In response to these changing norms, food delivery services like Grubhub, and chains like Dominos have placed a huge deal of emphasis on the 'contactless' part of their delivery by allowing consumers to direct exactly where they want their food left on their porches or garage. The delivery drivers also take a picture to guarantee that the product was left in the said spot which brings the customer ease. Additionally, these marketing efforts highlight how strictly they try to maintain sanitary conditions by making workers wear gloves and masks throughout the process.
On the flip side, many people are also opting for curbside pickup as they want to minimize the amount of contact that their packages have, which again reflects this new 'clean' norm that the pandemic has brought in. Businesses need to find a way to differentiate their delivery processes (ie. creating different options for their customers that include these clean procedures.) and adhere to these new norms to be successful post-corona and have a competitive edge.
During Corona
Businesses should be focused on...
Providing consumers with as much information about their deliveries (ie. tracking info, stock info, estimated delivery date) directly in their shopping cart
Using delivery services that have an emphasis on "clean" delivery like the contactless that food services have adopted.
Focus on sending alerts after the order is placed to keep the consumer informed and looking forward to the delivery.
A perfect example of extra communication with consumers is showcased below by Sephora. They let their customers know to expect delays and have tracking options after people have placed their orders! The email that they send highlights their position with Corona, notifies consumers that there might be delays, and provides easy access to tracking packages.

Post Corona
Businesses can…
Have a differentiated process that attracts more consumers
Charge different prices for different shipping/delivery options
Have a more connected and communicative relationship with their consumers
All in all, consumers want more communication in regard to the delivery process of their purchases. It is expected that there will be hitches in delivery processes during this unprecedented time due to backlogged orders, running out of stock, maintaining a sanitary environment for their workers, hard times due to the pandemic, and other reasons. But by providing different delivery options, prioritizing tracking and other information, and emphasizing the cleanliness of the delivery, retailers can riverside their strategy. Retailers can conform to new and different consumer behaviors and adjust to their platforms accordingly.
The good news is that FenixCommerce is already helping retailers tackle these issues because we think ahead! In fact, businesses that have used our services have seen significant benefits, like having a 14% incremental conversion rate and having over a 75% reduction in customer queries. We do this by providing accurate delivery estimates on the product, cart, and checkout pages which is a crucial component for consumers today. Here at FenixCommerce, we go beyond delivery and strengthen retail-consumer relationships!