For the past few years, the common wisdom when it comes to delivery experience in eCommerce has been "customers want fast and free". While you're unlikely to find a lot of customers who prefer to pay for shipping and receive their packages later rather than sooner, there's certainly a gap between "fast and free" and what most shoppers find to be acceptable in terms of shipping cost and timing. The million (or more) dollar question is: how does an eCommerce seller strike the right balance between shipping cost, timing, customer requirements, and shipping budget?
While we can't provide a formula for achieving that balance, the available research does indicate four areas you can focus on in order to provide a better delivery experience to the customer, improve conversion, and stick to your shipping budget--even if you can't give every shopper "fast and free". Let's take a closer look.
Upfront Costs: Looking at the graph above, Baymard found that the first deterrent to customers costs that weren't mentioned while they were shopping--and shipping generally dominates these costs. That's why we built the FenixCommerce Intelligent Delivery Platform to be easily configurable to display ship costs as early as the Product Detail Page--as well as on the Cart and Checkout pages.
Specific Shipping Information: Moving onto the delivery experience to the customer aspect of delivery options, we saw that while fast shipping is great, providing specific shipping timeframes can be just as powerful at driving conversion. Think about the common timeframe estimate format "5-7 business days" given by many eCommerce sellers; by using this type of messaging, you're requiring the shopper to do math involving determining business vs non-business days to figure out the range of dates when the package should arrive--that's too much work, and our internal data on customer behavior proves this point: among our clients who offer a Free shipping option without a date alongside an option with a specific date that costs $3-$5 more, 10% of shoppers on average choose the option with a date--and happily pay the upcharge.
Shipping Options: Customers love having options, who doesn't? When businesses offer more than one delivery option to customers, they can choose a delivery mode and date that suits their level or urgency and budget. Businesses need to stay on top of their delivery experience because customers expect it as part of the product nowadays. One way a business can expand on this would be to provide multiple specific dates for different specific prices.
Target the Acceptable Timeframe: According to this study by Pitney Bowes, the "sweet spot" of acceptable delivery timeframes is 3-4 days for free delivery which can create a good impact on the delivery experience; if you want to offer a free option, hitting this timeframe will be much less expensive than hitting a more aggressive 2-day timeframe, and it'll be acceptable to a large majority of your customers. To further lower the cost of offering this option, you can leverage lower-cost services like USPS Priority Mail and First Class Package Service (for items that weigh less than 1 lb)--both of which will arrive at most destinations within the contiguous 48 states within 4 days--and even UPS SurePost and FedEx SmartPost, which will make it to some near-zone destinations within 4 days at extremely reasonable rates. FenixCommerce's zone-based real-time rate shopping can actually allow you to only offer a free option (or whatever timeframe you pick) when you can be confident it'll arrive by the predicted dates via one of these low-cost services.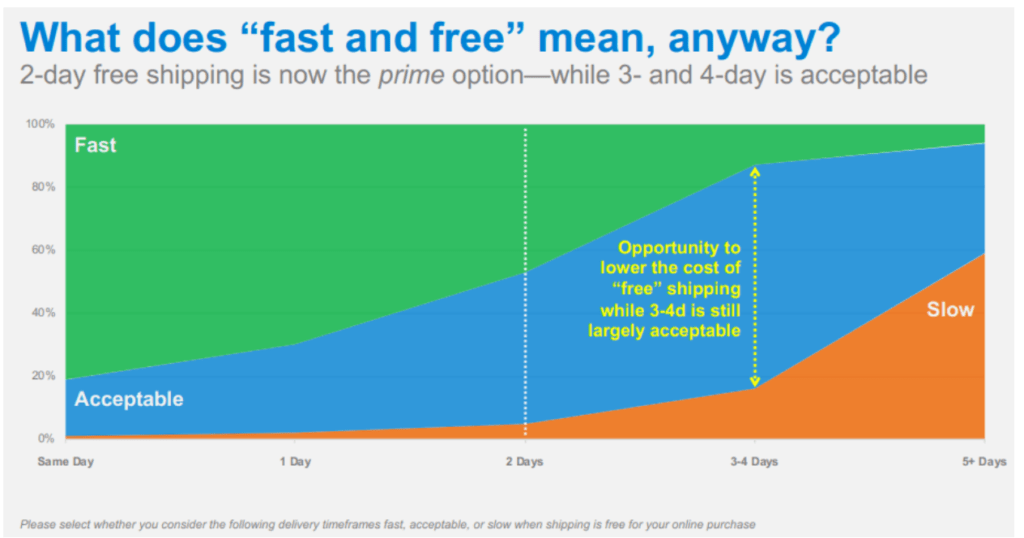 Focusing on these four areas may not get you to "fast and free" shipping for every order, but our clients that use the FenixCommerce Intelligent Delivery Platform to optimize their shipping options--and fulfillment operations--around these points see an average 10% increase in conversion and 9% increase in shipping revenue.
Get in touch if you want to join them!
Improve customer shopping experience, conversion, and profits with the advanced Fenix Intelligent Delivery Shopify app.