If you sell both on Amazon and Direct To Consumer, one potential silver lining in the current coronavirus pandemic is the opportunity to shift more sales to DTC--and to strengthen your customer connections in the process.
How Quickly the World Can Change
In February--before pandemic-related social restrictions, panic buying, and the concept of "essential products" were a thing--ScaleFast released the results of a study indicating 43% of consumers chose Amazon over DTC brands because Amazon offered faster or cheaper shipping.
Fast forward to earlier this week, when Digital Commerce 360 reported that "36% of retailers say they are making adjustments to their marketplace strategy as a result of the coronavirus pandemic"--mostly by shifting attention to their own DTC sites and bringing fulfillment back in house for their Amazon-listed products that used to be FBA.
The incentive for brands to do this is, of course, related to Amazon's central role in eCommerce--and the tough business decisions it has been forced to make as a result of that role.
A Tale of Two Essentialnesses
Unless you've been living under a rock, you've probably heard that Amazon instituted an "essential items" policy on March 17, limiting the products it would accept at its warehouse to be fulfilled via FBA to the somewhat-less-than-precisely-defined "household staples, medical supplies, and other high-demand products coming into our fulfillment centers so that we can more quickly receive, restock, and deliver these products to customers." As announced, the policy was to be in effect through April 5; however as of this writing, Amazon is no longer committing to a specific date to end the policy. From its Seller Central FAQ on the topic:
"Given that the impact of COVID-19 is still developing, we do not have an exact date when operations will be fully restored. Instead, whenever possible we will allow more products to be received, while still ensuring our fulfillment centers are able to process high-priority products."
So, if you sell non-essential items via FBA, you're kind of out of luck until further notice. While delivery timeframes for these items seem to be improving, they are still quite a bit longer than the pre-virus standard of one or two days we're accustomed to; these sunglasses--which I viewed on April 8--are showing a delivery date of April 14: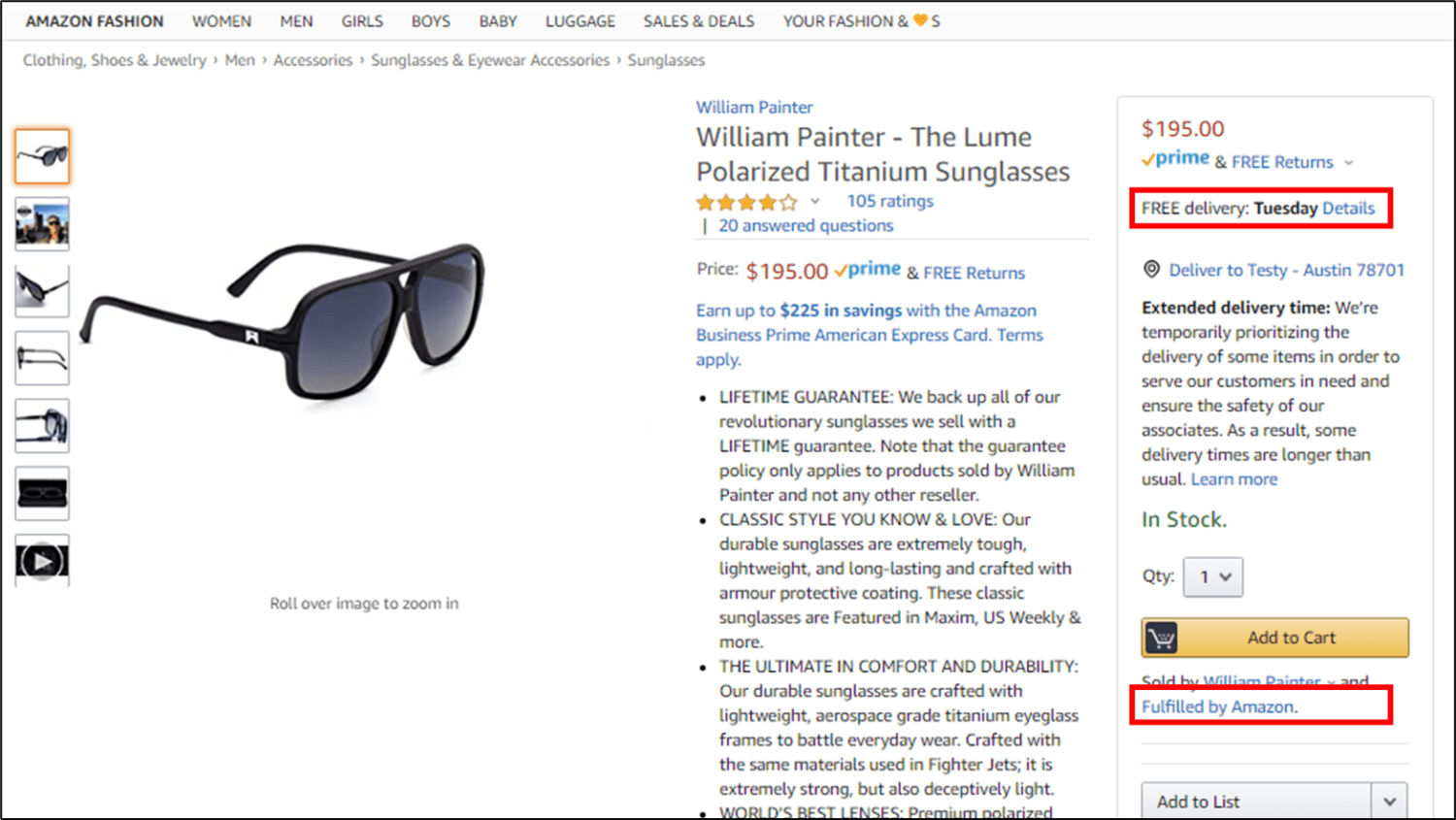 But even if you sell essential items via FBA, you may also be out of luck--actually maybe more out of luck--like this toothpaste seller (also viewed on April 8):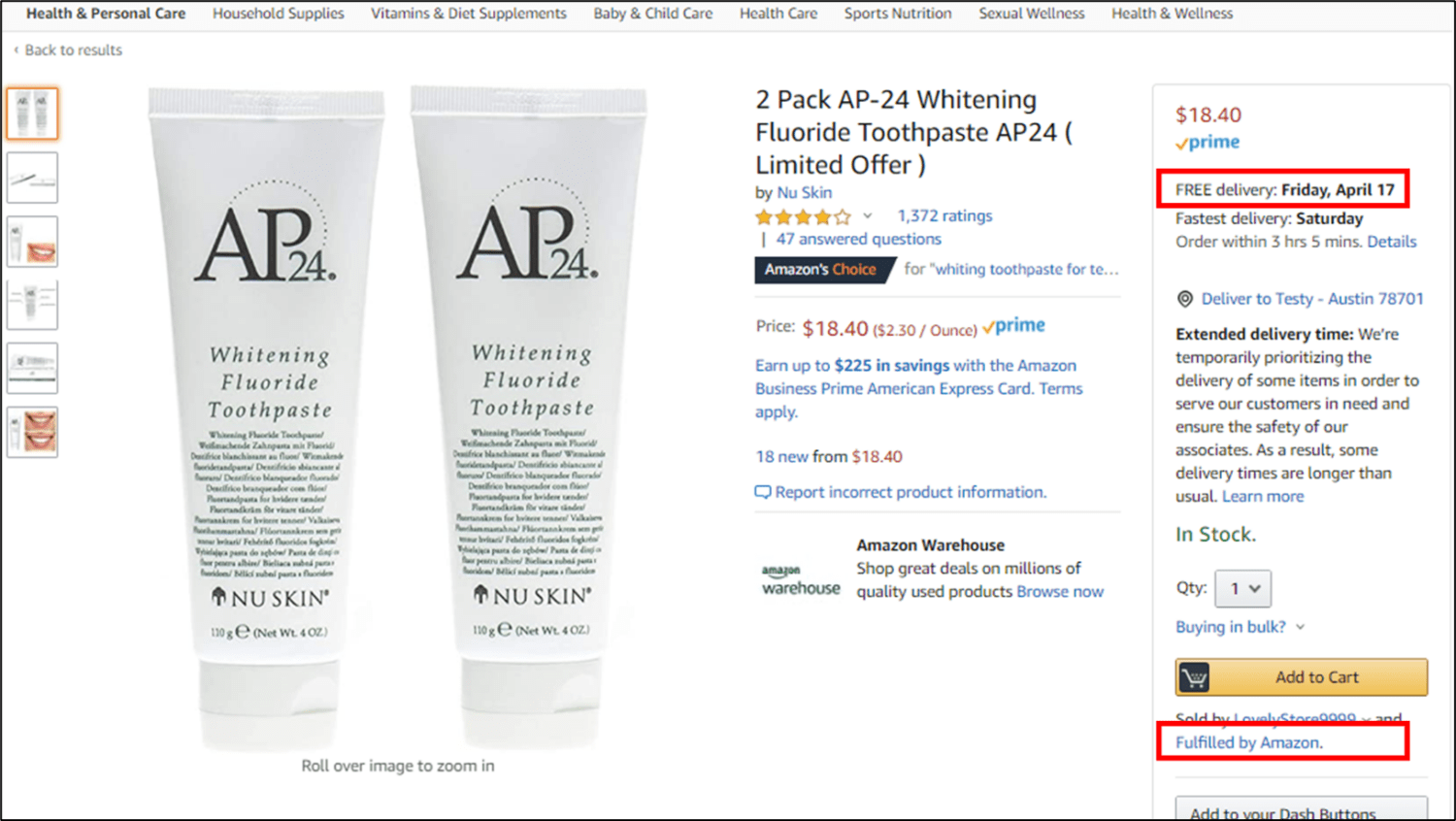 Taking Back Control
As mentioned, many brands that sell on both Amazon and their own sites are addressing this by ramping up their direct channel. And some of our favorite brands (and Fenix clients) appear to be doing this quite effectively.
Felina
While one can probably debate how essential intimate apparel is, our friends at Felina are beating Amazon at its own FBA game--by fulfilling their products directly, more quickly. Recently (April 7) Amazon was showing a 5-day delivery timeframe for these leggings: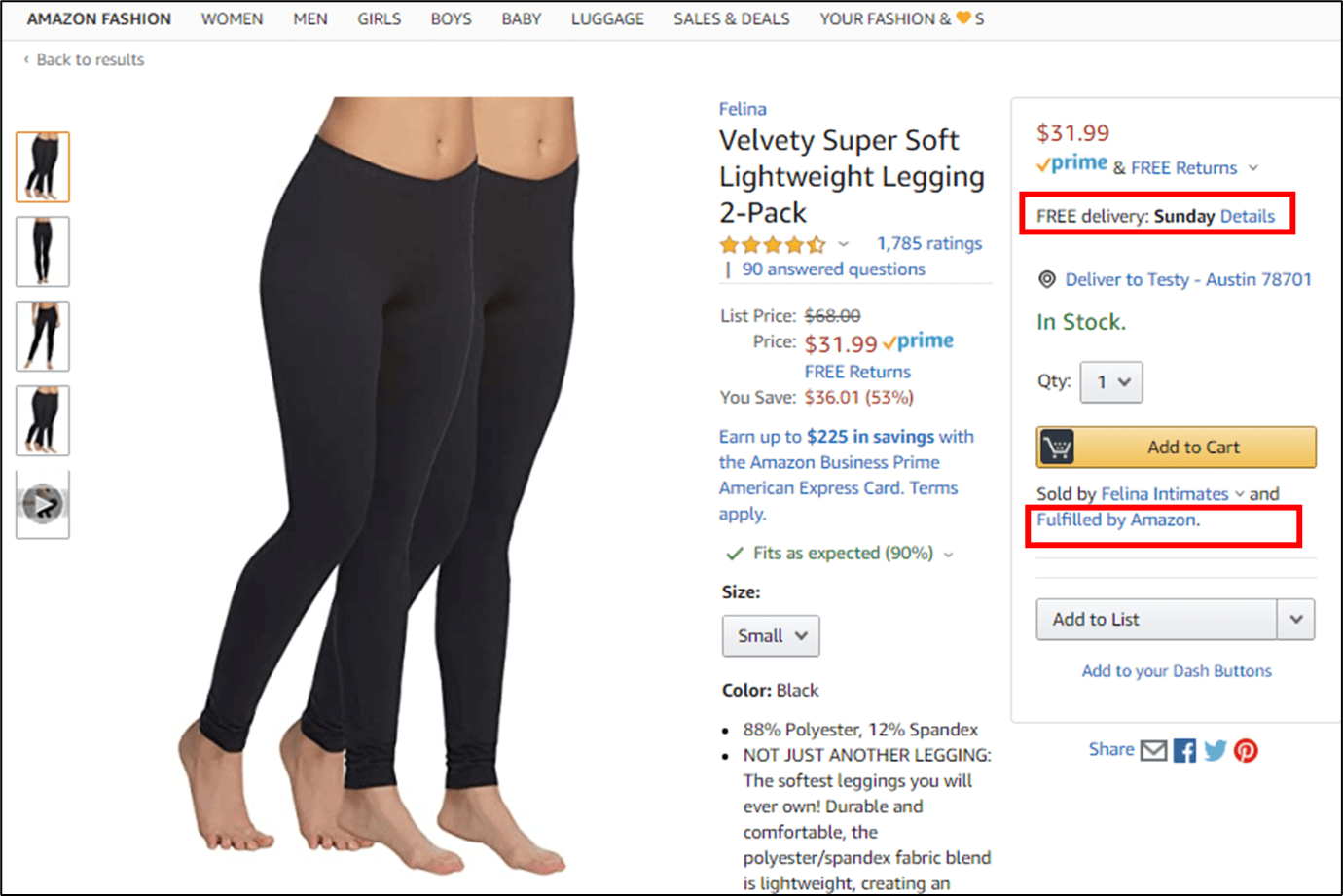 While if you ordered from Felina's DTC store, you could get them in just 3 days: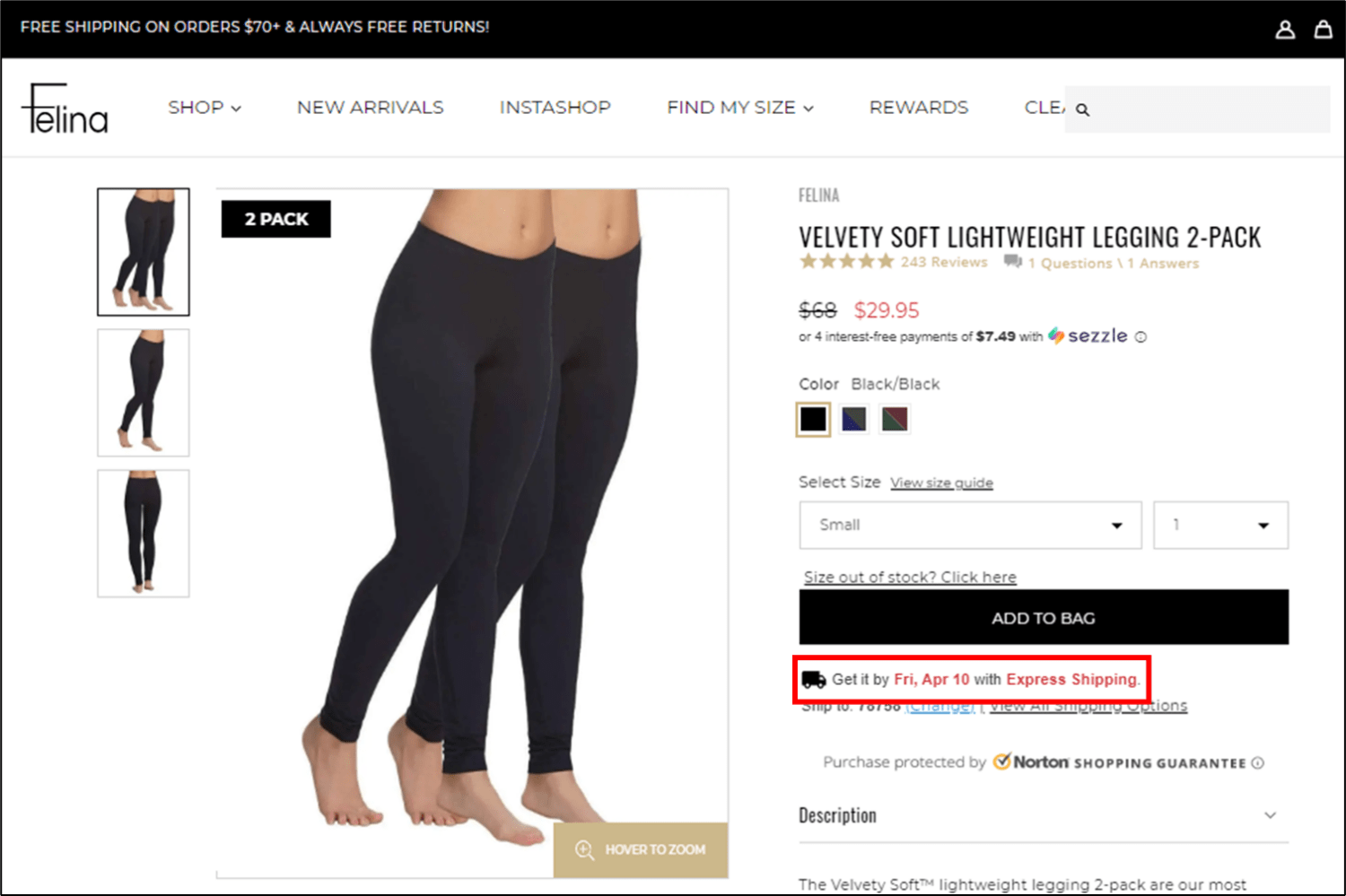 Uber Soccer
Home fitness equipment falls into a category we'd call "semi-essential"; even under quarantine, it's important to exercise. And if brushing up on your soccer skills is your exercise of choice, our client Uber Soccer USA can help--especially if you order directly from their website, where they are offering two day shipping to me (as of April 7--based on the FenixCommerce IDP's understanding of my proximity to their warehouse):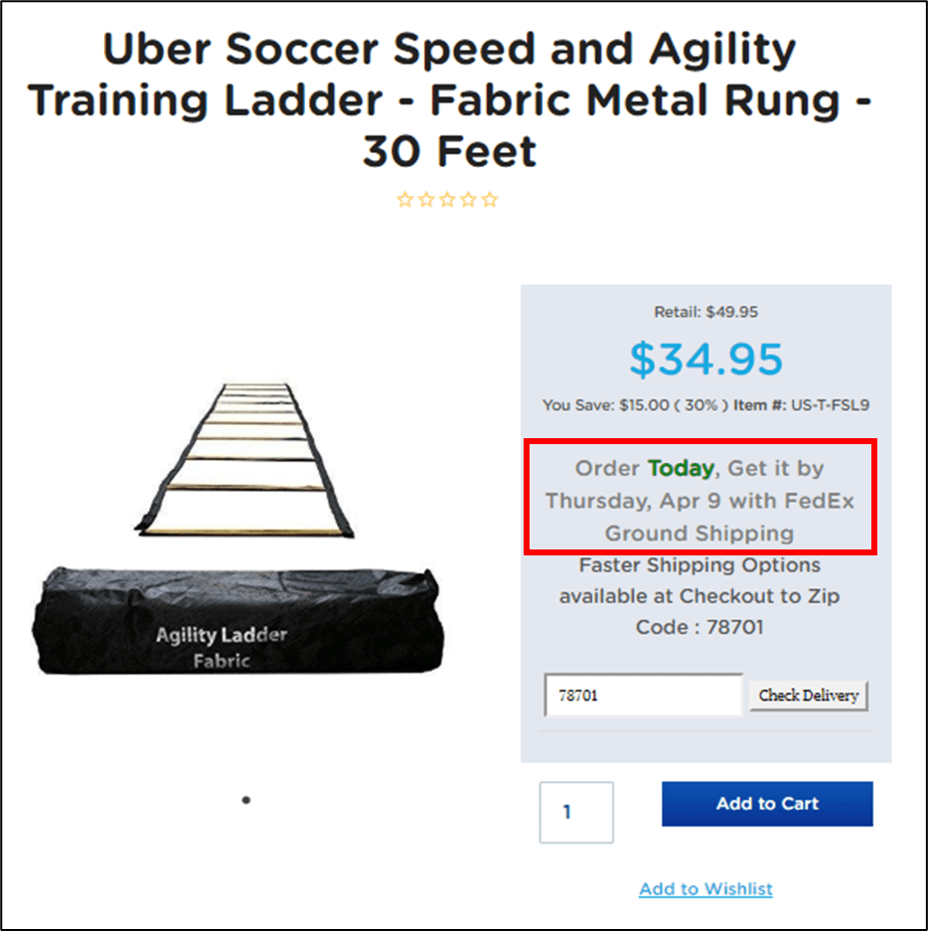 Uber Soccer does not do FBA, and this points out another issue with selling on Amazon, especially today: it's hard to keep inventory in synch, so you have to pad delivery estimates to the point of making them almost meaningless: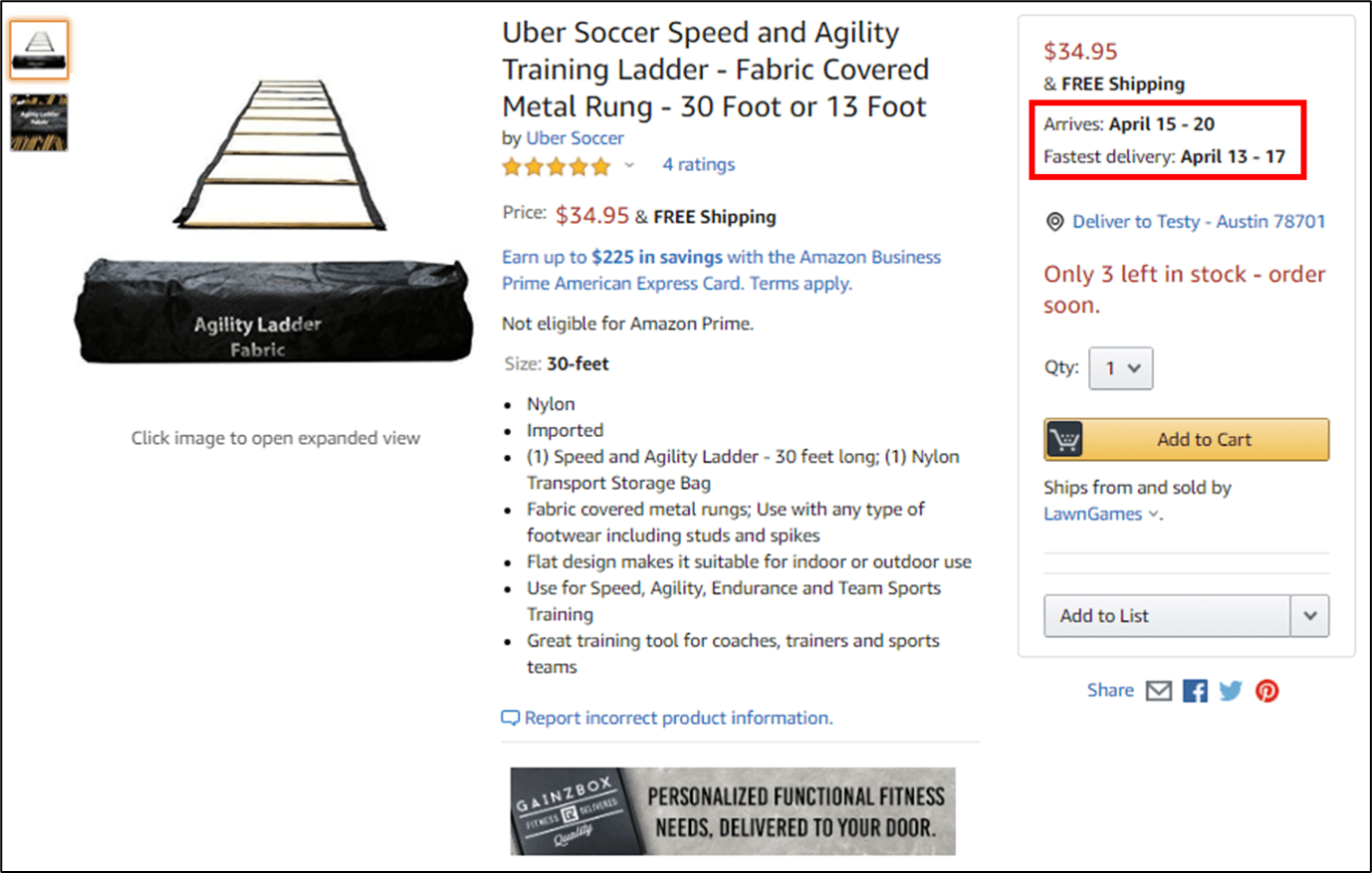 Give Your Shoppers What They Want
Whether you're selling essentials, non-essentials, or something in between, ramping up your DTC business in today's environment is a no-brainer; it provides:
A direct relationship with your customer
100% of your customer's attention when they are on your site (e.g. they won't be seeing paid ads for your competitors' products)
Zero conflict of interest with a marketplace that may well be selling its own inferior versions of your products
Complete control over fulfillment--the costs, options, and delivery dates you show your customers and the services you use to get their packages delivered are entirely up to you
Remember that ScaleFast study metric we started out with: 43% of consumers used to chose Amazon over DTC brands because Amazon offered faster or cheaper shipping. Today you have the opportunity to out-perform Amazon in this area that used to be one of its key differentiators.
And FenixCommerce can help. As we've seen, some great brands are using our AI-driven Intelligent Delivery Platform to beat Amazon at its own shipping game. If you're ready to do the same, get in touch at info@fenixcommerce.com. And please let us know your thoughts on DTC's re-emergence in the comments below!