Is there really still time to optimize my holiday shipping?
I know, I know, you are too busy processing BFCM orders to worry about what'll be happening over the next 19 days. But hear me out.
While holiday shipping deadlines start arriving on Monday, you still have time to optimize your shipping options to get the most benefit out of low-cost shipping services--and extend your selling season to the last possible minute using higher-price services.
First, let's look at the upcoming deadlines.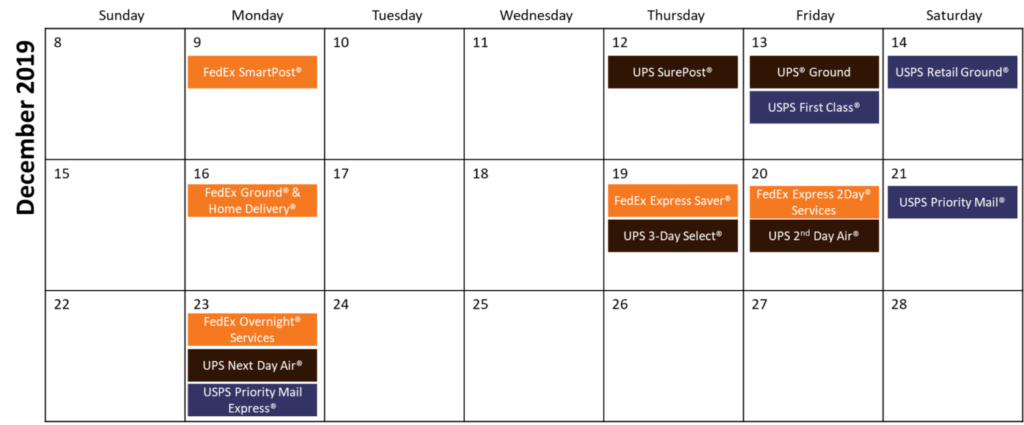 Notice that while the FedEx SmartPost deadline is Monday December 9, there are plenty of other low-cost services with deadlines extending through December 21; these are likely the services you're using for free or low-cost shipping options--and if you aren't, you should be. Of course, these dates need to be adjusted by two factors.
Your Pick/Pack/Ship Overhead
Keep in mind that these are the deadlines published by the carriers; don't forget to adjust them by your own pick/pack/ship time to get the actual deadline your warehouse ops folks will have to hit in order to ensure you get your packages out on time. If you're running 7 days a week during the holiday season and your pick/pack/ship time is typically less than a day, you might end up with something like this:

Note that we are including USPS Priority Mail among the low-cost options; this is because if you have access to USPS Commercial rates (which you probably do since they are included with most shipping software and offered by many 3PLs), Priority Mail pricing can be very competitive with even deeply discounted Ground rates from FedEx and UPS. And, of course, the 1-3 business day transit time PM offers doesn't hurt.
Your Customer's Location
The other factor that can work in your favor with some of these services is your customer's location. While it's harder to confidently predict the early arrival of FedEx and UPS ground-route shipments, USPS offers online tools you can use to estimate the transit times of First Class Parcel Service and Priority Mail packages. So for certain shipments, you may be able to leverage these extremely cost-effective services even later in the season, if you're willing to do your homework on transit times.
And What About the Procrastinators?
Priority Mail can get you pretty close to the big day, but its lack of a fixed transit time understandably makes some sellers nervous given the negative customer experience ramifications of delivering last-minute gifts on Boxing Day. Of course, there are plenty of expedited, guaranteed-delivery-date options to choose from. Keeping in mind our allowance for pick/pack/ship time, here are the deadlines for them:

No doubt about it, these later-cutoff options are more expensive, and may not make sense to offer for free in many cases. But some quick analysis may illuminate situations where it makes sense to employ these shipping services in order to keep serving your customers as close to Christmas day as possible; we recommend looking at:
Customer value: Consider offering free or discounted expedited shipping during the last week before Christmas to customers who have spent more than a certain threshold amount over their history with you.
Item attributes: It may make sense to offer free or discounted expedited options on very high value, very high margin, and/or very light weight items, e.g. jewelry or intimate apparel.
First-time customers: If growing your customer base is your goal, offering first-time customers free expedited shipping up until a few days before Christmas can be a powerful way to differentiate yourself and earn their repeat business next year.
Whatever you decide to do, be sure to let your customers know about it on every channel you can, especially via on-site messaging. And do it quick! If you're like me, you still have your own Christmas shopping to do.
Book a demo!