It's a Wrap!
Check out some of the coolest startups we met at the RILA LINK 2020 conference and more.
In case you missed it (shame on you!), FenixCommerce was in the house at the RILA LINK 2020 conference this year, with a snazzy kiosk on the Innovation Floor of the exhibit hall. Here's our CEO Akhilesh Srivastiva to prove it.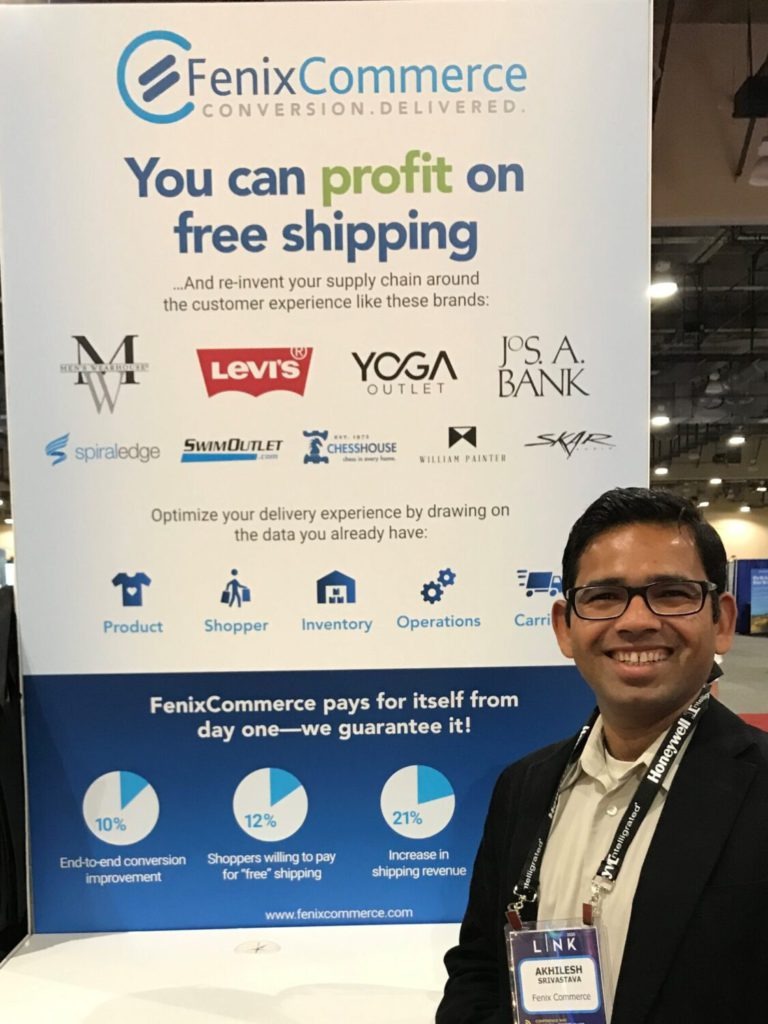 To say we saw a lot of coolest stuff (by which I mean apps, vendors, service providers, presentations, marketing tchotchkes, and finger foods...it was a conference, you know the drill) would be a ridiculous understatement. But for us, the overarching theme at RILA this year was supply chain marketplaces. At FenixCommerce we see a lot of opportunity in the area of creating and optimizing markets for various supply chain services--especially in the last mile. And at RILA this year we ran into a lot of other start-ups who are going after those opportunities in truly innovative ways. Here are the ones we thought were most impressive.
OnRout: A Marketplace for Shipping Space
I'm going to go ahead and call OnRout the PriceLine of package delivery. I know that may sound a bit old-school (er, web 1.0?), but let's keep in mind we are talking about the last-mile logistics industry here. No one has done what OnRout is doing before--and no one (that I know of at least) has made accessible the benefit to shoppers, sellers, and the planet that OnRout's solution provides.
OnRout's solution is a real-time bidding platform for parcels, allowing carriers to submit bids for parcels that are going to addresses that are already on a route they are serving in a given delivery timeframe. By allowing carriers to more efficiently fill their trucks on a route-by-route basis, OnRout has been shown to reduce shipping costs by 10-40% and to reduce greenhouse gas emissions by up to 41%.
They get this goodness in front of the eCommerce shopper via an easily integrated API that seamlessly fits into sellers' rateshopping processes.
OnRout was founded by Jonathan Hessney, an INSEAD grad and Accenture alum with deep experience in parcel logistics on both the carrier and shipper sides of the industry. Check out www.onrout.com for more information.
Cahoot: A Marketplace for Inventory Space (and Fulfillment)
While OnRout is focused on the last-mile carrier for eCommerce orders, Cahoot is focused on last-mile positioning. The company has created a peer-to-peer network of eCommerce sellers that store inventory and ship orders for each other, yielding cost savings of up to 68% and order delivery timeframe improvements of up to 3.6 days.
Cahoot allows sellers of all sizes and locations to offer low-cost, one- or two-day delivery timeframes via the fulfillment network, and is especially attractive for eComm businesses participating in Amazon's Seller Fulfilled Prime (SFP) program, since it's a low-cost way to increase the geographic footprint of your fulfillment centers--thus avoiding the need to use overnight or 2-day courier services to get packages to buyers in the 2-day prime window.
But the coolest thing about Cahoot to us is that it has the potential to leverage the excess inventory and fulfillment capacity of tens of thousands of eCommerce sellers across the nation, using up storage and labor capacity that would otherwise go to waste while at the same time getting packages to buyers as quickly as possible--and helping sellers compete effectively against the 800 lb gorilla that sits snorting over the industry.
Cahoot was founded by Manish Chowdhary--also founder and CEO of the Pulse Commerce SaaS Order and Inventory Management Platform and is based in Bridgeport, CT. Visit www.cahoot.ai for more information.
Roadie: The Lyft of eCommerce Delivery
Roadie is--and this is strictly my own view--sort of the Lyft of eCommerce package delivery. I'm referencing Lyft specifically (instead of Uber as seems to be common nowadays for these sorts of comparisons) because I remember attending a talk by Lyft founder Logan Green where he said the original idea was to put a person in the empty seat of your car when you were commuting, to use that wasted space in a way that benefited both driver and passenger.
And basically that's what Roadie does for eCommerce deliveries by leveraging people who are already making personal trips using their vehicles--benefiting the shipper and seller by lowering costs, often decreasing delivery times, and benefiting the environment by making all vehicles more full and cutting down on the need for delivery trucks, thereby reducing greenhouse gas emissions.
Roadie was founded by Marc Gorlin, a serial entrepreneur whose past companies you're probably familiar with, as they include Kabbage (working capital for SMBs) and PGP (a company formed to commercialize one of the most prevalent security standards used on the Internet). Roadie is headquartered in Atlanta; for more info please visit www.roadie.com.
But Wait, There's More
These are the companies we thought most relevant to the supply chain space we play in, but we'll have more to say on the coolest stuff at RILA LINK2020, so watch this blog--we'll soon be publishing our take on highlights of the conference sessions.
3/5/20 Update: For more on our RILA LINK2020 takeaways, check out The Top 5 Themes We Saw At RILA LINK2020.