Interesting Times
We were going to open this blog by saying something about living in unprecedented times, but it feels like that sort of statement is becoming almost cliché, however true it may be. While we probably don't need to convince you that this is a very weird moment in history, one thing we can offer is some insight into how that weirdness varies across the various eCommerce categories we here at FenixCommerce have visibility into, by looking at the client data that flows through our platform.
It turns out that the insights we derived from this data aren't as negative as we had anticipated.
We analyzed the Sales of a broad subset of our US-based clients from the period February 1 through March 22, for both this year and last. We chose these dates because they run the range from when most people in the US weren't considering the coronavirus much of a threat to the time when many states and localities were issuing social distancing and stay-at-home advice and prohibiting gatherings of more than 10 people. The White House issued its stay-at-home and gathering guidance on March 16, so the data contains what I'll refer to as the first week of "stuff got real".
As one would expect, in the broader market online purchases of "essential" products like cleaning supplies, groceries, and healthcare-related items have increased significantly in the last few weeks—so much so that they have driven an online sales increase of 52% compared with the same time frame a year ago, despite the fact that sales of non-essential items are already tanking here in the US. To get an idea of what we might expect as the situation plays out, check out this brilliant graphic from Bain & Company: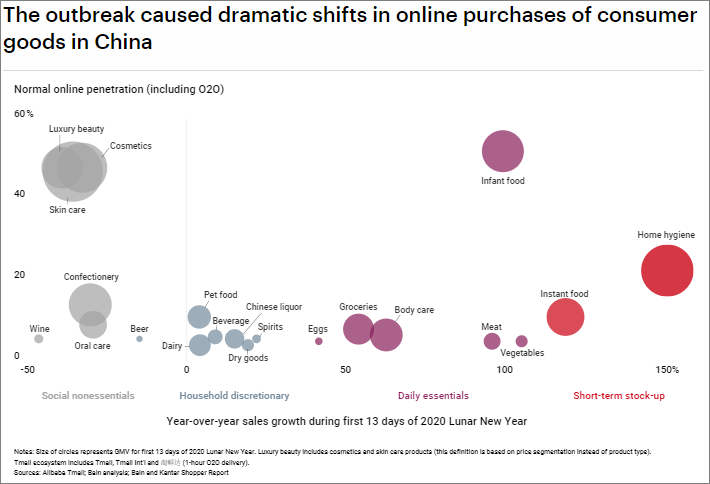 The full report is also definitely worth a read. But stick with me for a minute.
So What Does Fenix Data Say?
Our client base does not contain a significant number of sellers of essential products. However, it is informative to look at some of the categories our clients do sell.
Our highest number of clients are in the Apparel & Accessories category (curiously missing from the Bain report). We know from talking to these clients that the past couple weeks have been rough, and the data confirms the downward trend vs the same period last year: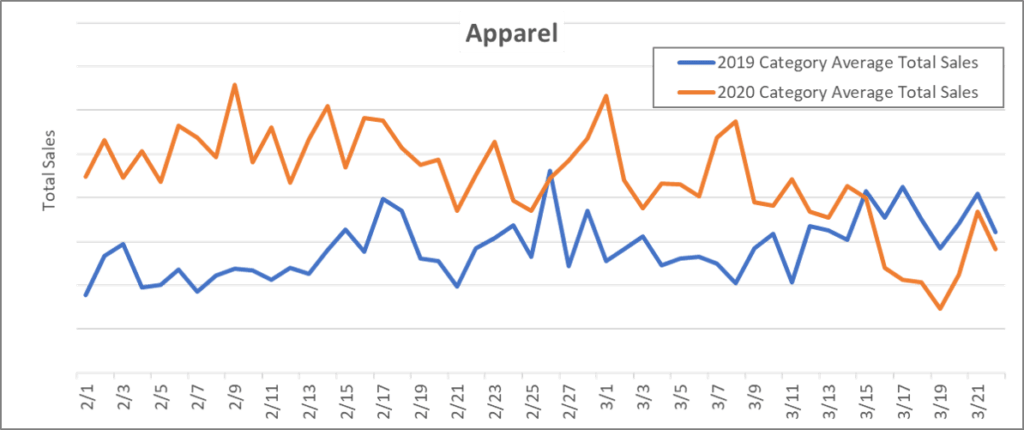 The weekend uptick at the end is interesting—perhaps a result of folks getting settled into stay-at-home mode. In the few days since then, we anecdotally know that sales have declined further.
Another non-essential category where you'd expect a decline is Consumer Electronics; however our data shows performance fairly similar to last year:

The last category we thought was interesting was B2B, specifically one client who sells to a mix of B2C and B2B customers: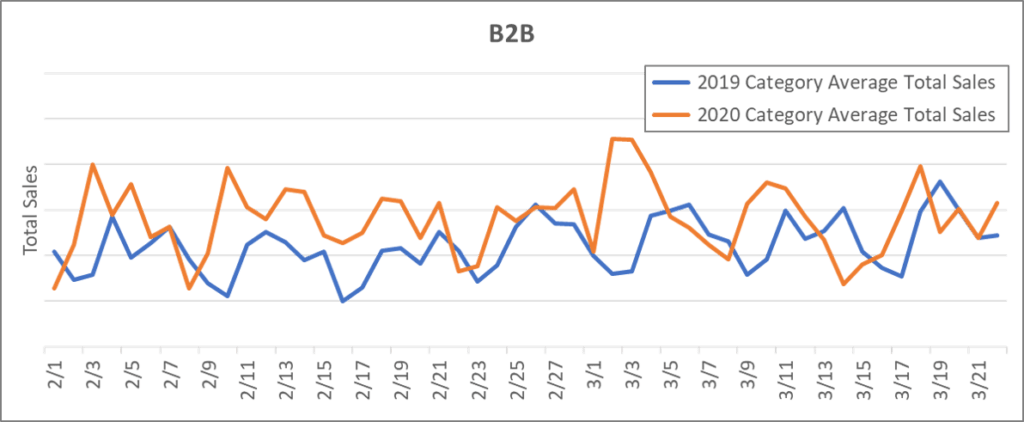 This particular client had an interesting strategy: they found a way to recast some of the product they sell as a healthcare industry item. As you can see from the graph, the strategy seems to be working.
What Should You Do?
The consensus seems to be that the pandemic—and its associated chaos—isn't going to end anytime soon, so if you are an eCommerce seller and want to navigate this storm as successfully as possible, you'll need to take action. Here are some ideas that may help.
Turn Stores Into eCommerce Fulfillment Locations
Assuming it's still permissible where you are for your employees to work from your stores, the simplest way to move the inventory in those stores is to use it to fulfill online orders. There are two ways to do this, and they aren't necessarily mutually exclusive:
Enable "contactless" store pickup: Expose physical store inventory to your online store and provide customers the option to buy online and pickup in store; this isn't as hard as you may think (contact us to learn more), especially if your main goal is to sell down specific store inventory in a hurry, which is probably wise for non-essential items. Be sure to indicate in the BOPUS messaging on your site that pick up will be 100% contactless, and to institute a process that enables that.
Ship from store: Even more straightforward than contactless BOPUS, you can simply expose your store inventory on your eComm store and pick/pack/ship from the store. It'll require some initial work to set up the process and train resources, but the cost of that activity is likely small compared to letting the inventory (and building for that matter) sit idle until the pandemic is over.
As an added bonus, both of these approaches allow you to keep at least some of your employees on the payroll and productive.
Find an Adjacent Category
If you are suffering from being a seller of "non-essential" items and therefore facing constraints on what you're allowed to do in terms of staffing—or if you've simply seen demand for your products crater—consider taking a page from our B2B client who figured out that some of their products could serve as essential inputs into the manufacturing of medically necessary devices. Your situation may not be exactly the same, but look at your entire range of products: Can any be repurposed into an essential category? Can any be used in the production of essential products? This is especially relevant if you manufacture products and can adapt your production lines. For example, we love how booze companies are retooling to manufacture hand sanitizer.
Consider Alternative 3PL Solutions
Obviously not an option if you have inventory in the US that you need to move, but some sellers have the opposite problem—due to supply chain slowdowns (especially in China), they can't get enough product to keep up with demand.
If that's you, you can look at at least temporarily addressing this with a 3PL like ECMS Global, which can help with the fulfillment of Chinese-manufactured products in a number of innovative ways.
We're Here to Help
We at FenixCommerce have an enormous amount of experience solving difficult eCommerce- and Supply-Chain-related problems for sellers of every size and category. We're currently offering free 30-minute phone/Webex consultations if you have any issues related to the coronavirus pandemic you'd like to discuss. If you're interested, you can book a time here, respond to this blog, or email us at info@fenixcommerce.com.
We hope to hear from you soon, and in the meantime, stay healthy!