For the past few years, the common wisdom when it comes to eCommerce delivery has been "customers want fast and free". While you're unlikely to find a lot of customers who prefer to pay for shipping and receive their packages later rather than sooner, there's certainly a gap between "fast and free" and what most shoppers find to be acceptable in terms of shipping cost and timing. The million (or more) dollar question is: how does an eCommerce seller strike the right balance between shipping cost, timing, customer requirements, and shipping budget?
While we can't provide a formula for achieving that balance, the available research does indicate four areas you can focus on in order to provide a better customer experience, improve conversion, and stick to your shipping budget--even if you can't give every shopper "fast and free". Let's take a closer look.
Upfront Costs: Looking at the graph above, Baymard found that the first deterrent to customers were costs that weren't mentioned while they were shopping--and shipping generally dominates these costs. That's why we built the FenixCommerce Intelligent Delivery Platform to be easily configurable to display ship costs as early as the Product Detail Page--as well as on the Cart and Checkout pages.
Specific Shipping Information: Moving onto the customer experience aspect of delivery options, we saw that while fast shipping is great, providing specific shipping timeframes can be just as powerful at driving conversion. Think about the common timeframe estimate format "5-7 business days" given by many eCommerce sellers; by using this type of messaging, you're requiring the shopper to do math involving determining business vs non-business days to figure out the range of dates when the package should arrive--that's too much work, and our internal data on customer behavior proves this point: among our clients who offer a Free shipping option without a date alongside an option with a specific date that costs $3-$5 more, 10% of shoppers on average choose the option with a date--and happily pay the upcharge.
Shipping Options: Customers love having options, who doesn't? When businesses offer more than one delivery option to customers, they can choose a delivery mode and date that suits their level or urgency and budget. Businesses need to stay on top of their delivery experience because customers expect it as part of the product nowadays. One way a business can expand on this would be to provide multiple specific dates for different specific prices.
Target the Acceptable Timeframe: According to this study by Pitney Bowes, the "sweet spot" of acceptable delivery timeframes is 3-4 days for free delivery; if you want to offer a free option, hitting this timeframe will be much less expensive than hitting a more aggressive 2-day timeframe, and it'll be acceptable to a large majority of your customers. To further lower the cost of offering this option, you can leverage lower cost services like USPS Priority Mail and First Class Package Service (for items that weigh less than 1 lb)--both of which will arrive to most destinations within the contiguous 48 state within 4 days--and even UPS SurePost and FedEx SmartPost, which will make it to some near-zone destinations within 4 days at extremely reasonable rates. FenixCommerce's zone-based real-time rate shopping can actually allow you to only offer a free option (of whatever timeframe you pick) when you can be confident it'll arrive by the predicted dates via one of these low-cost services.
Focusing on these four areas may not get you to "fast and free" shipping for every order, but our clients that use the FenixCommerce Intelligent Delivery Platform to optimize their shipping options--and fulfillment operations--around these points see an average 10% increase in conversion and 9% increase in shipping revenue. Get in touch if you want to join them!
Over the past few months, there has been a lot of discussion about how COVID-19 has changed consumer behavior. This past May, total online spending was up 77% year-over-year--to $82.5B.
If we ignore COVID, eCommerce has been experiencing significant growth for the past 20+ years. But the vast majority of people still historically shopped brick-and mortar stores, at least in combination with their online shopping. And, as recently as 2016, more than 20% of shoppers never shopped online.
As we adjust to the "new normal", it's helpful to examine the factors that were keeping these shoppers offline--and to address these factors in hopes that we can make this shift to eCommerce permanent.
According to a survey done by Ripen, there were 4 primary reasons that people preferred offline shopping:
30.8% want to see or feel products in person: By actually getting to feel the products, customers avoid surprises that even the best online merchandising can't eliminate.
29.9% want their items right away: Instant gratification is a huge theme in today's society and physical retail stores provide the user with products without a wait.
16.9% wanted to protect their privacy by shopping offline: Even among frequent online shoppers, the worry that credit card or other sensitive personal information could be compromised can never be completely forgotten.
14.4% wanted to save on shipping costs: While more and more online stores offer free shipping, many of them only offer it over a certain order cost threshold, prompting some shoppers to visit a physical store to avoid having to buy extra items--or pay for shipping.
The good news is that there are straightforward solutions to all the issues highlighted above.
While the experience of physically touching a product can never be fully replicated online, online sellers can focus on integrating purchasing through social platforms to make it easier for shoppers to connect with friends who own (and can testify to the physical aspects of) products they are interested in. They can also highlight good-old-fashioned reviews of products so customers can see a diverse set of opinions.
To address privacy and security concerns, sellers can have secure checkouts validated by recognized brands like McAfee, TrustE, or COMODO.
While instant gratification is a tough one, sellers can substitute what you might call "specific future gratification" (we know, it's not quite as catchy, we are working on it:) by offering accurate delivery dates everywhere shoppers might be curious about when they'll get to touch their new purchase (e.g. the Product, Cart, and Checkout pages).
This is closely tied to the shipping cost concern; if you can't offer free shipping on everything, offering the cheapest possible shipping on as many products as possible will mitigate this concern for many shoppers. And of course, at FenixCommerce, providing accurate delivery dates and helping sellers lower shipping costs are the foundations of what we do--so we'd love to help!
How are you planning to keep your COVID surge going long-term? Drop us a comment below and let us know your plans.
Along with the many unprecedented changes brought upon by COVID, we are seeing a shift in how DTC companies operate and deliver their products to their customers. There have been 6,378 retail store closures thus far and Coresight estimates that this number will continue to rise to 12,000 by the year end--with a lot of that sales volume migrating online. Brands that traditionally only sold through marketplaces and/or retail stores are finding new opportunity in DTC eCommerce--and those that have always gone DTC are finding increased demand on their existing DTC channels.
Currently, less than 5% of CPG sales are represented in the eCommerce space according to Shopify. On the flip side, DTC movement accounts for 40% of the sales growth in the sector. Looking at these numbers, DTC eCommerce seems like the next frontier for the CPG companies to master. In fact, in the last 3 years, the eCommerce growth for many categories has been exponential compared to other channels. See the chart below.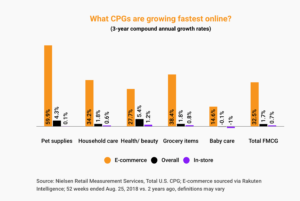 Even before the effects of the pandemic, CPG companies were beginning to explore DTC as a way to form closer customer connections even while leveraging the likes of Amazon and retail stores as major channels to increase volume.
We believe that the COVID-19-related increase in this migration to DTC is becoming table stakes for CPG companies that want to grow and stay relevant in the "new normal". Those companies that take the leap to see benefits including:
The ability to collect consumer data: Direct customer connections allow the collection of more, better customer data that then facilitates personalization and--as a result--customer loyalty.

More effective marketing campaigns: With both marketing and selling on the same eCommerce platform, it's easier for businesses to integrate their digital marketing strategy.

More control over brand image and reputation: By being DTC, businesses do not have to rely on retailers or other eCommerce channels to properly represent their brand.

Speed and agility: Since going DTC gives the brand complete control over both infrastructure and everything that lives on it, changes in anything from online assortment to user experience to tech stack components can be made more quickly and efficiently than they ever could with retail/eCommerce selling partners.
One of our clients, Spiceology Inc located in Spokane, Washington, recently shifted their marketing to match consumer needs in the time of a pandemic. Since many restaurants (Spiceology Inc's main B2B market) were closed due to COVID19, they had to focus on a new customer base and new channel (DTC) to drive sales.
In an interview with Forbes, CEO of Spiceology, Chip Oversteet said, "Messaging to consumers during the quarantine is challenging, but imagine messaging to chefs, who are shuttering their restaurants in record numbers. Practically overnight, chefs across the country were just trying to avoid bankruptcy. There's no way to know the situation any individual chef is in, and therefore no way to reach out appropriately to offer them fresher spices, a better organized kitchen, or whatever your value proposition might be. So, we decided to completely shut down our outbound marketing and sales efforts focused on food service and respond only to inbound requests. At the same time, we had to turn 180 degrees and put all our energy into the consumer segment. We broke the golden rule of marketing — only change one variable at a time."
The company took many measures to revamp and re-direct their efforts to everyday customers. Some of the changes the company made included adding cooking tutorials, recipes, product reviews, smaller container sizes with new packing and even changing the look of their website. And, of course, implementing the FenixCommerce Intelligent Delivery Platform to provide delivery date estimates on product, cart, and checkout pages.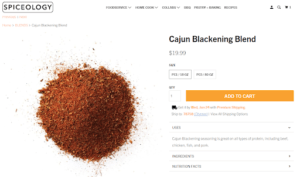 Forbes reported that  after these efforts, 80% of the company's sales are now due to consumers with 10% being from wholesales and the other 10% from chefs. Spiceology took charge and explored new markets and the hard work (and risk) paid off!
We at FenixCommerce couldn't be more proud to work with Spiceology--and dozens of other DTC brands--to help them adapt to the challenges and opportunities of the pandemic-related "new normal". If you are a DTC brand looking to leverage the power of accurate delivery date estimates to increase conversion and improve customer experience, get in touch today to see how we can help!
In a short span of time, COVID-19 has altered everyday life for everyone. With social distancing guidelines, people have reconsidered and changed how they shop and get their goods which has led to a shift in consumer mindset. People have now moved to shopping online, even more so than before, because of all the closures due to COVID-19 leading to new consumer 'norms' when it comes to E-commerce.
But with this online shopping trend comes a shift in expectations. With being in lockdown for months and states finally reopening slowly, customers now have different ways to obtain what they need than before which requires retailers to adapt accordingly. One result is this unforeseen rapid rise of e-commerce. But with this new online shopping traffic, stores must do all they can to provide the best customer experience and also keep up and predict trends in purchasing and act accordingly.
Amidst this global pandemic, there are many more consumers now experimenting with E-commerce. E-commerce is seen as a reliable and safe option for consumers. In fact, Gordon Haskett Research reported that one-third of shoppers bought food online during the early phase of pandemic shopping.
A Shift in Delivery Expectations
As a result, one expectation that consumers have as a result of COVID is updates in their normal delivery process. Now, being stuck at home, people want faster delivery while also being able to track their packages. Customers know that due to the pandemic, there will be issues but they are much more likely to respond positively if they know where their packages are at any given point in time. Companies can provide alerts in the shopping cart and product description of the available delivery options for different products. For example, companies can allow for a 'curbside pickup' for consumers that want to be proactive. Customers want to know as much shipping information as possible and this requires transparency from the retailers end. For example, there can be changes in the delivery time and having a heads up makes the consumer more tolerable of changes. These options also allow an opportunity for consumers to pay for different shipping options that can carry into a post-corona world.
Another trend to notice that has been adopted by many companies is contactless delivery. With the rise of coronavirus, there has been an emphasis on social distancing and avoiding as much contact as possible that is changing our world's regular norm. In response to these changing norms, food delivery services like Grubhub, and chains like Dominos have placed a huge deal of emphasis on the 'contactless' part of their delivery by allowing consumers to direct exactly where they want their food left on their porch or garage. The delivery drivers also take a picture to guarantee that the product was left in the said spot which brings the customer ease. Additionally, these marketing efforts highlight how strictly they try to maintain sanitary conditions by making workers wear gloves and masks throughout the process.
On the flip side, many people are also opting for curbside pickup as they want to minimize the amount of contact that their packages have, which again reflects this new 'clean' norm that the pandemic has brought in. Businesses need to find a way to differentiate their delivery processes (ie. like creating different options for their customers that include these clean procedures.) and adhere to these new norms to be successful post-corona and have a competitive edge.
During Corona
Businesses should be focused on...
Providing consumers with as much information about their deliveries (ie. tracking info, stock info, estimated delivery date) directly in their shopping cart
Using delivery services that have an emphasis on "clean" delivery like the contactless that food services have adapted.
Focus on sending alerts after the order is placed to keep the consumer informed and looking forward to the delivery.
A perfect example of extra communication with consumers is showcased below by Sephora. They let their customers know to expect delays and have tracking options after people have placed their orders! The email that they send highlights their position with Corona, notifies consumers that there might be delays, and provides easy access to tracking packages.
Post Corona
Businesses can…
Have a differentiated process that attracts more consumers
Charge different prices for different shipping/delivery options
Have a more connected and communicative relationship with their consumers
All in all, consumers want more communications in regards to the delivery process of their purchases. It is expected that there will be hitches in delivery processes during this unprecedented time due to backlogged orders, running out of stock, maintaining a sanitary environment for their workers, hard times due to the pandemic and other reasons. But by providing different delivery options, prioritizing tracking and other information, and emphasizing the cleanliness of the delivery, retailers can riverside their strategy. Retailers can conform to new and different consumer behaviors and adjust to their platforms accordingly.
The good news is that FenixCommerce is already helping retailers tackle these issues because we think ahead! In fact, businesses that have used our services have seen significant benefits, like having a 14% incremental conversion rate and having over a 75% reduction in customer queries. We do this by providing accurate delivery estimates on the product, cart and checkout pages which is a crucial component for consumers today. Here at FenixCommerce, we go beyond delivery and strengthen retail-consumer relationships!
If you sell both on Amazon and Direct To Consumer, one potential silver lining in the current coronavirus pandemic is the opportunity to shift more sales to DTC--and to strengthen your customer connections in the process.
How Quickly the World Can Change
In February--before pandemic-related social restrictions, panic buying, and the concept of "essential products" were a thing--ScaleFast released the results of a study indicating 43% of consumers chose Amazon over DTC brands because Amazon offered faster or cheaper shipping.
Fast forward to earlier this week, when Digital Commerce 360 reported that "36% of retailers say they are making adjustments to their marketplace strategy as a result of the coronavirus pandemic"--mostly by shifting attention to their own DTC sites and bringing fulfillment back in house for their Amazon-listed products that used to be FBA.
The incentive for brands to do this is, of course, related to Amazon's central role in eCommerce--and the tough business decisions it has been forced to make as a result of that role.
A Tale of Two Essentialnesses
Unless you've been living under a rock, you've probably heard that Amazon instituted an "essential items" policy on March 17, limiting the products it would accept at its warehouse to be fulfilled via FBA to the somewhat-less-than-precisely-defined "household staples, medical supplies, and other high-demand products coming into our fulfillment centers so that we can more quickly receive, restock, and deliver these products to customers." As announced, the policy was to be in effect through April 5; however as of this writing, Amazon is no longer committing to a specific date to end the policy. From its Seller Central FAQ on the topic:
"Given that the impact of COVID-19 is still developing, we do not have an exact date when operations will be fully restored. Instead, whenever possible we will allow more products to be received, while still ensuring our fulfillment centers are able to process high-priority products."
So, if you sell non-essential items via FBA, you're kind of out of luck until further notice. While delivery timeframes for these items seem to be improving, they are still quite a bit longer than the pre-virus standard of one or two days we're accustomed to; these sunglasses--which I viewed on April 8--are showing a delivery date of April 14: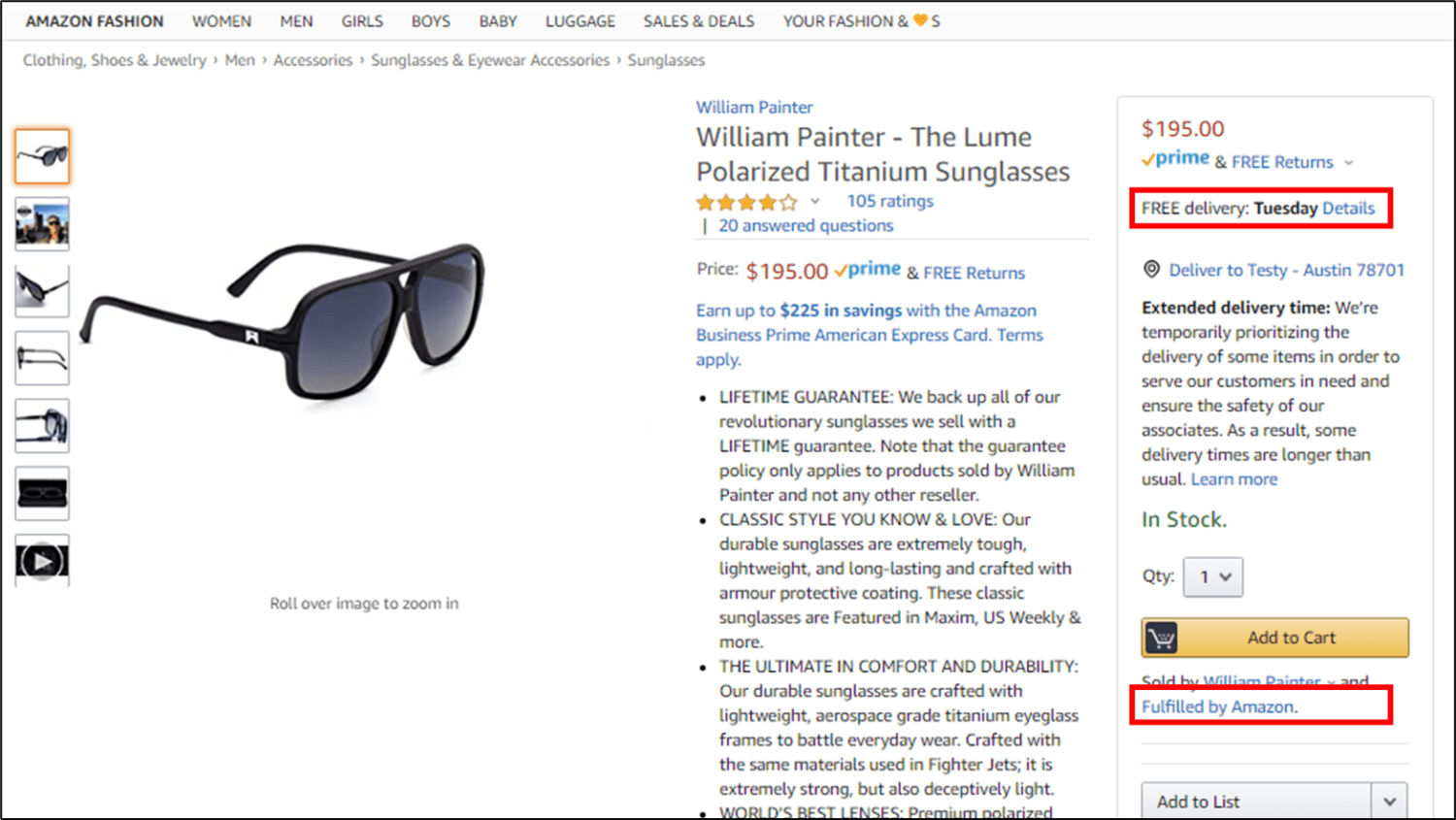 But even if you sell essential items via FBA, you may also be out of luck--actually maybe more out of luck--like this toothpaste seller (also viewed on April 8):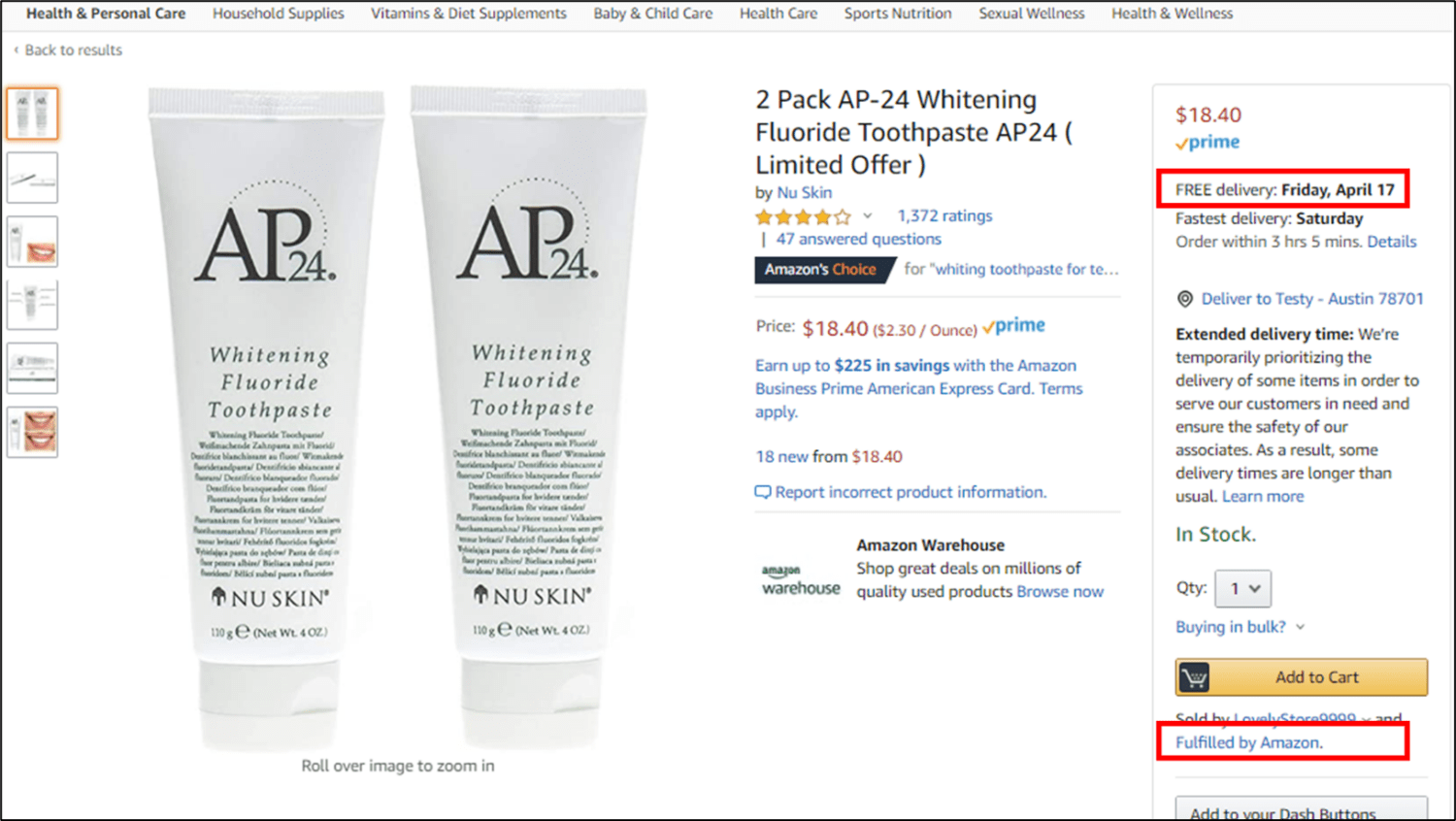 Taking Back Control
As mentioned, many brands that sell on both Amazon and their own sites are addressing this by ramping up their direct channel. And some of our favorite brands (and Fenix clients) appear to be doing this quite effectively.
Felina
While one can probably debate how essential intimate apparel is, our friends at Felina are beating Amazon at its own FBA game--by fulfilling their products directly, more quickly. Recently (April 7) Amazon was showing a 5-day delivery timeframe for these leggings: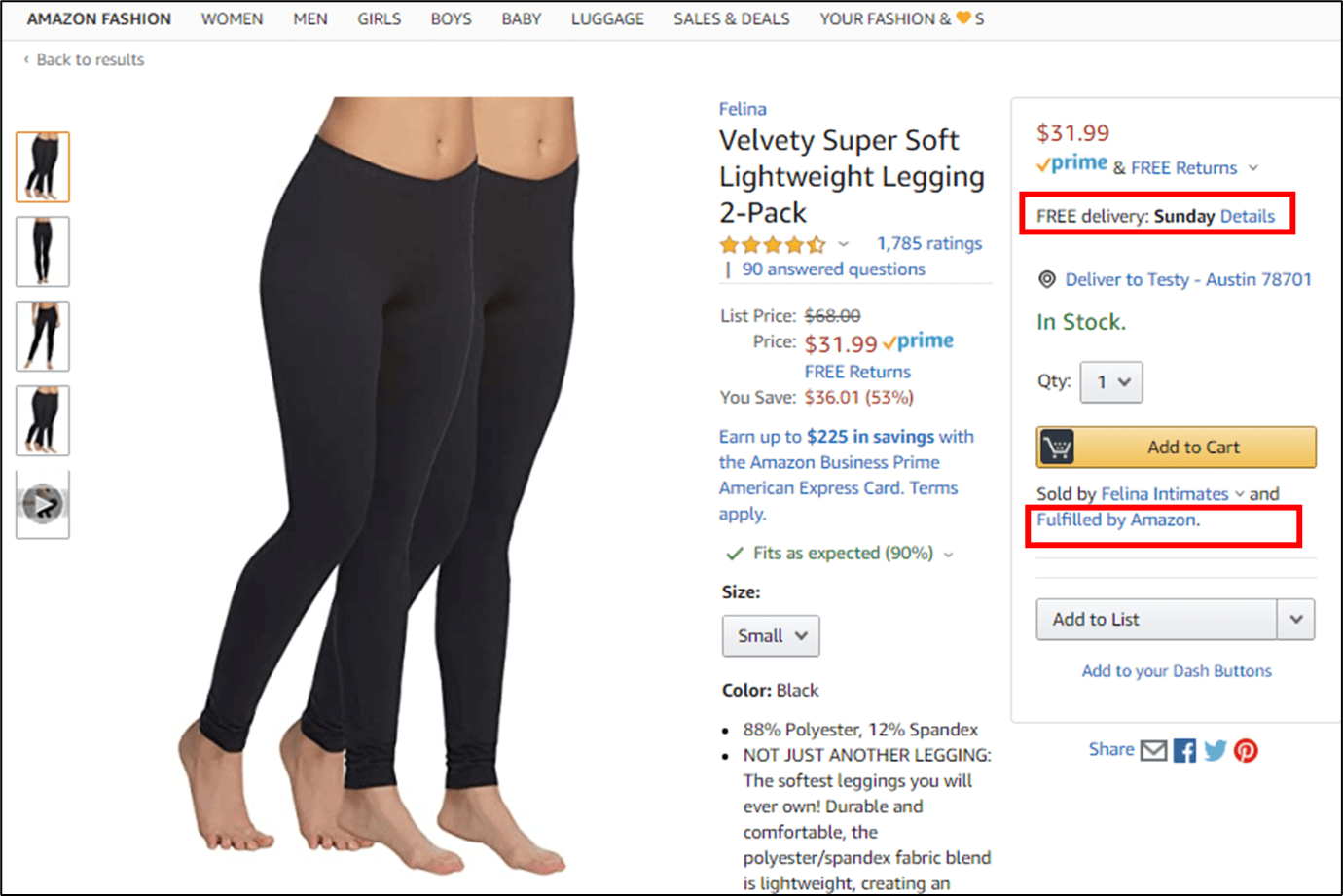 While if you ordered from Felina's DTC store, you could get them in just 3 days: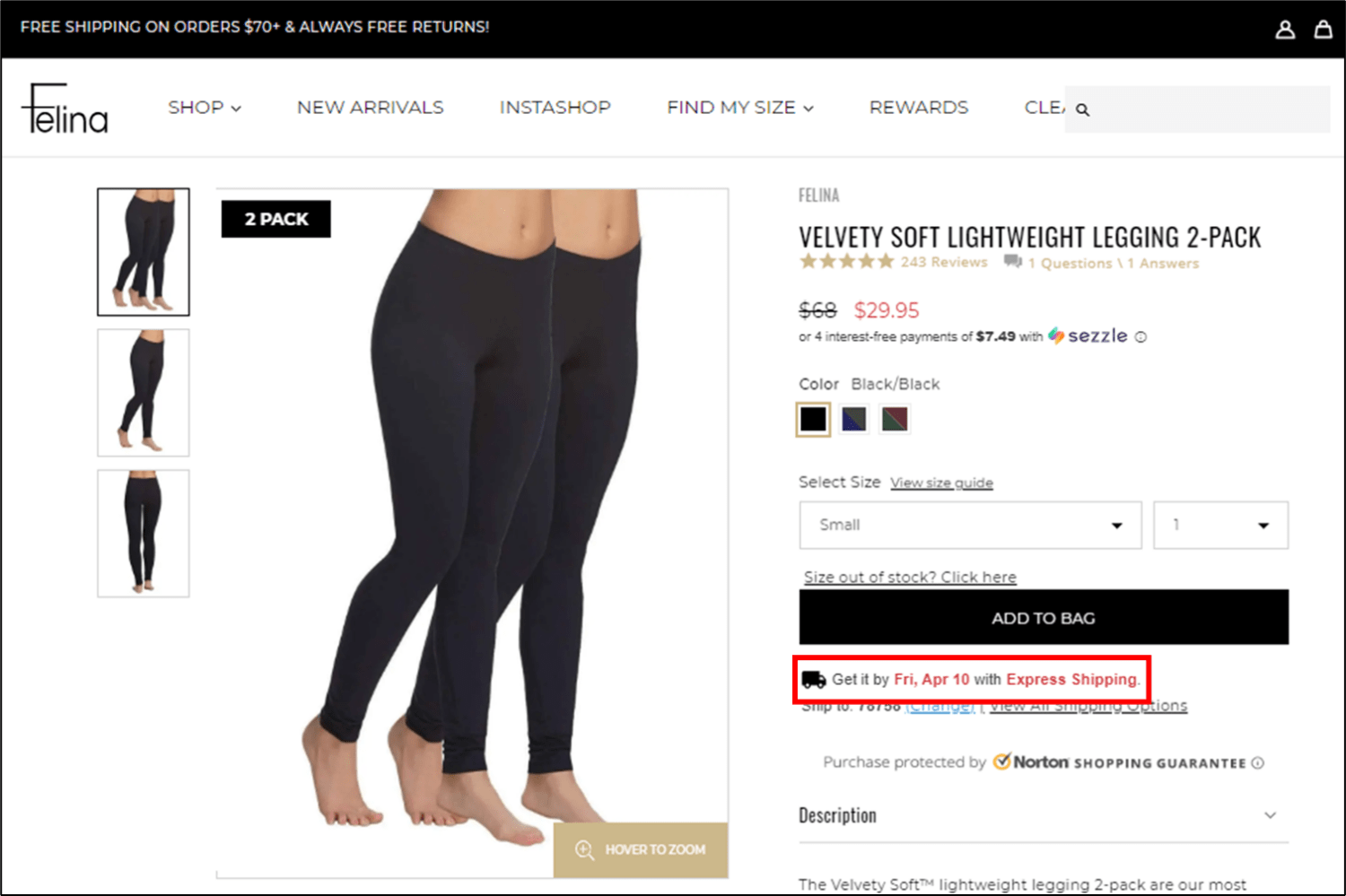 Uber Soccer
Home fitness equipment falls into a category we'd call "semi-essential"; even under quarantine, it's important to exercise. And if brushing up on your soccer skills is your exercise of choice, our client Uber Soccer USA can help--especially if you order directly from their website, where they are offering two day shipping to me (as of April 7--based on the FenixCommerce IDP's understanding of my proximity to their warehouse):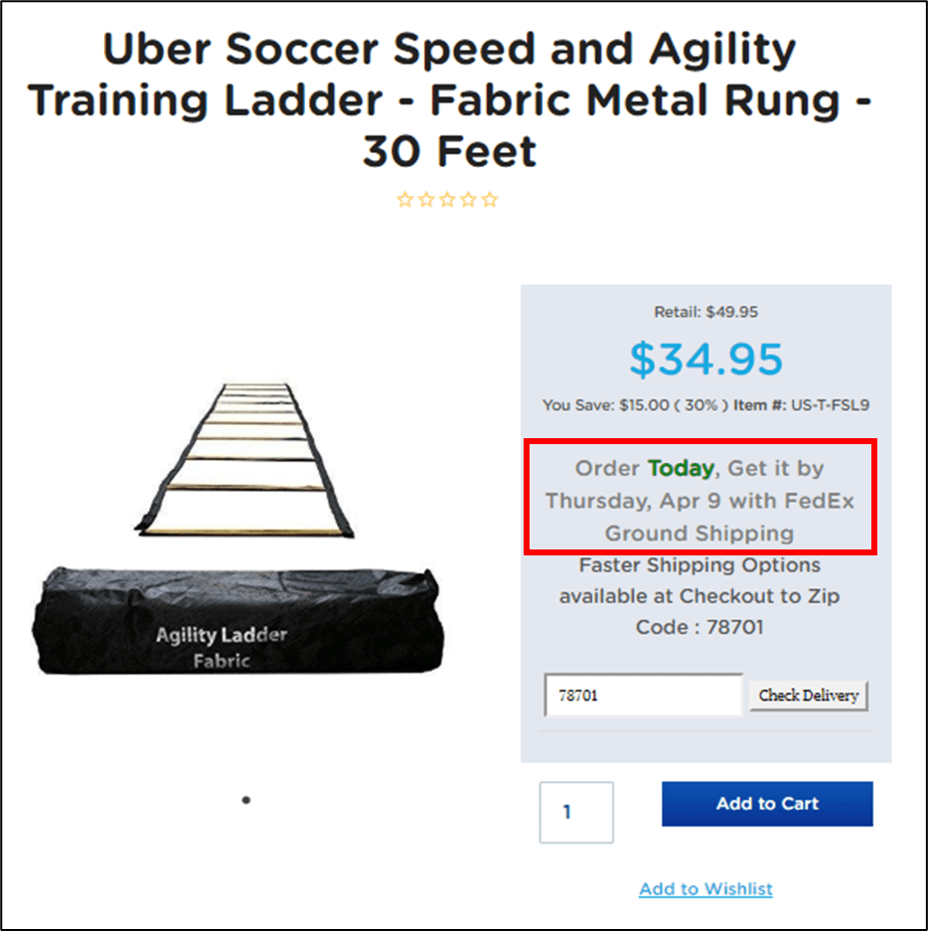 Uber Soccer does not do FBA, and this points out another issue with selling on Amazon, especially today: it's hard to keep inventory in synch, so you have to pad delivery estimates to the point of making them almost meaningless: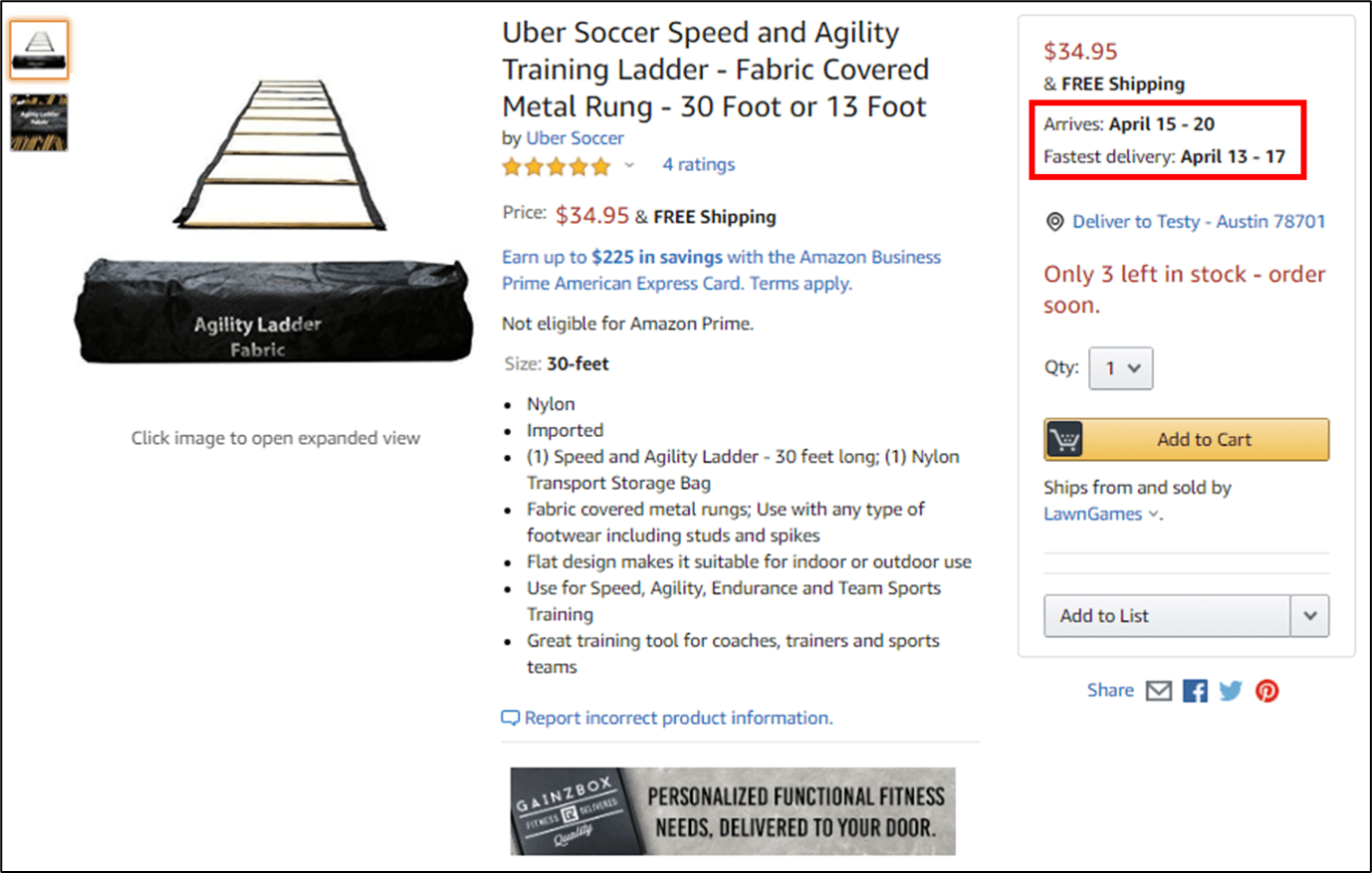 Give Your Shoppers What They Want
Whether you're selling essentials, non-essentials, or something in between, ramping up your DTC business in today's environment is a no-brainer; it provides:
A direct relationship with your customer
100% of your customer's attention when they are on your site (e.g. they won't be seeing paid ads for your competitors' products)
Zero conflict of interest with a marketplace that may well be selling its own inferior versions of your products
Complete control over fulfillment--the costs, options, and delivery dates you show your customers and the services you use to get their packages delivered are entirely up to you
Remember that ScaleFast study metric we started out with: 43% of consumers used to chose Amazon over DTC brands because Amazon offered faster or cheaper shipping. Today you have the opportunity to out-perform Amazon in this area that used to be one of its key differentiators.
And FenixCommerce can help. As we've seen, some great brands are using our AI-driven Intelligent Delivery Platform to beat Amazon at its own shipping game. If you're ready to do the same, get in touch at info@fenixcommerce.com. And please let us know your thoughts on DTC's re-emergence in the comments below!
Interesting Times
We were going to open this blog by saying something about living in unprecedented times, but it feels like that sort of statement is becoming almost cliché, however true it may be. While we probably don't need to convince you that this is a very weird moment in history, one thing we can offer is some insight into how that weirdness varies across the various eCommerce categories we here at FenixCommerce have visibility into, by looking at the client data that flows through our platform.
It turns out that the insights we derived from this data aren't as negative as we had anticipated.
We analyzed the Sales of a broad subset of our US-based clients from the period February 1 through March 22, for both this year and last. We chose these dates because they run the range from when most people in the US weren't considering the coronavirus much of a threat to the time when many states and localities were issuing social distancing and stay-at-home advice and prohibiting gatherings of more than 10 people. The White House issued its stay-at-home and gathering guidance on March 16, so the data contains what I'll refer to as the first week of "stuff got real".
As one would expect, in the broader market online purchases of "essential" products like cleaning supplies, groceries, and healthcare related items have increased significantly in the last few weeks—so much so that they have driven an online sales increase of 52% compared with the same time frame a year ago, despite the fact that sales of non-essential items are already tanking here in the US. To get an idea of what we might expect as the situation plays out, check out this brilliant graphic from Bain & Company:
The full report is also definitely worth a read. But stick with me for a minute.
So What Does Fenix Data Say?
Our client base does not contain a significant number of sellers of essential products. However, it is informative to look at some of the categories our clients do sell.
Our highest number of clients are in the Apparel & Accessories category (curiously missing from the Bain report). We know from talking to these clients that the past couple weeks have been rough, and the data confirms the downward trend vs the same period last year:
The weekend uptick at the end is interesting—perhaps a result of folks getting settled into stay-at-home mode. In the few days since then, we anecdotally know that sales have declined further.
Another non-essential category where you'd expect a decline is Consumer Electronics; however our data shows performance fairly similar to last year:
The last category we thought was interesting was B2B, specifically one client who sells to a mix of B2C and B2B customers:
This particular client had an interesting strategy: they found a way to recast some of the product they sell as a healthcare industry item. As you can see from the graph, the strategy seems to be working.
What Should You Do?
The consensus seems to be that the pandemic—and its associated chaos—isn't going to end anytime soon, so if you are an eCommerce seller and want to navigate this storm as successfully as possible, you'll need to take action. Here are some ideas that may help.
Turn Stores Into Fulfillment Locations
Assuming it's still permissible where you are for your employees to work from your stores, the simplest way to move the inventory in those stores is to use it to fulfill online orders. There are two ways to do this, and they aren't necessarily mutually exclusive:
Enable "contactless" store pickup: Expose physical store inventory to your online store and provide customers the option to buy online and pickup in store; this isn't as hard as you may think (contact us to learn more), especially if your main goal is to sell down specific store inventory in a hurry, which is probably wise for non-essential items. Be sure to indicate in the BOPUS messaging on your site that pick up will be 100% contactless, and to institute a process that enables that.
Ship from store: Even more straightforward than contactless BOPUS, you can simply expose your store inventory on your eComm store and pick/pack/ship from the store. It'll require some initial work to set up the process and train resources, but the cost of that activity is likely small compared to letting the inventory (and building for that matter) sit idle until the pandemic is over.
As an added bonus, both of these approaches allow you to keep at least some of your employees on the payroll and productive.
Find an Adjacent Category
If you are suffering from being a seller of "non-essential" items and therefore facing constraints on what you're allowed to do in terms of staffing—or if you've simply seen demand for your products crater—consider taking a page from our B2B client who figured out that some of their products could serve as essential inputs into the manufacturing of medically necessary devices. Your situation may not be exactly the same, but look at your entire range of products: Can any be repurposed into an essential category? Can any be used in the production of essential products? This is especially relevant if you manufacture products and can adapt your production lines. For example, we love how booze companies are retooling to manufacture hand sanitizer.
Consider Alternative 3PL Solutions
Obviously not an option if you have inventory in the US that you need to move, but some sellers have the opposite problem—due to supply chain slowdowns (especially in China), they can't get enough product to keep up with demand.
If that's you, you can look at at least temporarily addressing this with a 3PL like ECMS Global, which can help with fulfillment of Chinese-manufactured products in a number of innovative ways.
We're Here to Help
We at FenixCommerce have an enormous amount of experience solving difficult eCommerce- and Supply-Chain-related problems for sellers of every size and category. We're currently offering free 30-minute phone/webex consultations if you have any issues related to the coronavirus pandemic you'd like to discuss. If you're interested, you can book a time here, respond to this blog, or email us at info@fenixcommerce.com.
We hope to hear from you soon, and in the meantime, stay healthy!
Here's how not to do it: #2 in our 3-post series
It's the year 2020, and while eCommerce giants like Amazon can promise delivery of a package within 24 hours, some sites are still giving us a delivery estimate that leaves us scratching our heads. You know what I'm talking about -- the estimates that give you a range from "5-8 business days", or even no estimate at all. "Where do they even get this number?" You might be asking yourself. "Why such a large range?" Of course here at FenixCommerce this sort of thing is our bread and butter, so for this--the second post in a 3-post series on the difficulty of estimating accurate delivery dates--we thought we'd take a look at how not to do it.
1. Nothing (much) to see here
This one is our favorite to hate, basically because no information is being shared with the consumer other than what the shipping method service is called, which--if you're lucky--includes the carrier's transit time. Imagine seeing this while going through the purchase process for a product you need, say, in three days--which of these options would you trust? Most consumers feel a disconnect when purchasing items online because, while they're parting with their money right that instant, there's nothing of value given to them for the transaction other than an email confirmation and often a vague notion of how the product is going to be shipped. This website (like many) chose to leave the customer guessing when their product will arrive. This is a perfect example of a bad user experience, and could have been easily fixed if the site did a little research on USPS Priority shipping times. In fact, a quick Google search reveals that most USPS Priority packages arrive within 1-3 business days. But of course that leads us to ask: If I select the cheaper USPS Priority option, might I get it as fast as if I select the UPS Overnight option? With this seller's approach to Shipping method communication, there's really no way to tell.
2. Obscure date ranges
Believe it or not, this is a real screenshot.
When we see this, we think a few things: 1. Why on earth would it take 8-12 business days, especially when the competition can get some products to me in literally 2 hours? 2. As consumers, we automatically get a sense that this site lacks respect for their customer. Not only does the item take up to more than 2 weeks to arrive at my door (which is another issue in itself), but the messaging doesn't even give me real days, it gives me business days, which it leaves to me to translate.
3. Transit time only
The good news here--versus the last example--is at least these guys told us that they are specifically referring to transit time. And coupled with the footnote, they are making it clear that that's only part of the story. Unfortunately the bad news is they never tell you the other part: When is this thing actually going to leave their fulfillment center? And, they're also guilty of what we'll just go ahead and name the "Date Range Estimated Ambiguous business Days" or DREAD estimates. Heck, let's just shorten that to DREADstimates. By using both broad transit time ranges and business days, they are basically giving you zero usable information on when you might get your shirt.
4. Transit time plus overhead
As you can see, we're working our way up here. This time, we have transit time PLUS a little disclaimer on when you can expect your items to leave the fulfillment center. Bravo! You gave your customers some more information, but what are we supposed to do with that?
Essentially, you're asking your customers to fork over their hard earned cash AND become a human calculator, trying to figure out time zones, what time they placed their order, what constitutes a "business day", etc. While this site is theoretically enabling the buyer to do the math and come up with a date, they are asking us to do WAY too much when they are supposed to be the ones serving us.
5. Range of possible delivery dates
Last but not least and the least cringeworthy (but still sub-optimal), is the range of possible delivery dates. As you can see in our example, this approach displays a date range spanning 4-5 days. While this is a bit more helpful than our previous examples, the economy and standard options both give us a range of 5 days (4 days too many) for when our item should arrive. This may be preferable to our previous examples, but let's look at some potential scenarios that we can expect when given a range like this:
Because of the buyer's proximity to the fulfillment location, the item will actually arrive in 1-2 days when shipped via Economy: YAY! The shipping was faster than expected. But OH NO! You lost a conversion because the customer actually wanted it in 1-2 days (as Amazon has trained them to), but you gave them a range of 5, and they were unwilling to pay for the Expedited option.
The buyer needed to know exactly when the item would arrive because they didn't want the item to be stolen, or they wanted to plan to be home to sign for the item: Your customer is really rolling the dice in this case, and you are basically telling them that in order to get the narrowest window possible, they need to use the most expensive shipping option--but even then, they may have to make themselves available for two full days to ensure they are home when the item arrives. That's a requirement most customers are not going to adhere to, especially if they can get the item from another seller who is willing to tell them exactly when it's going to arrive.
The buyer needs the item by an absolutely certain day because it's needed for some special occasion (e.g. a birthday present): Again, you are driving the customer to a higher-cost, shorter-timeframe shipping option--even when it may not be necessary--in order to give them the piece of mind that they will receive the item by the date they need it.
These are just a few examples of why it's important to give the most accurate possible delivery dates to your valuable customers. But how?
Doing it right
In our next blog--the third in this series--we'll explore some examples of sites that do delivery date estimates the right way--and the implications that carries.
In the mean time we'd love to get your thoughts on this topic in the comments below!
Position your business to gain market share when the tide comes back
"Only when the tide goes out do you discover who's been swimming naked." Warren Buffett's sage observation on how it takes crisis to sometimes reveal who is actually performing is a useful model for the impact on fast-growing eCommerce Retailers & Brands we are likely to see from the Coronavirus.
For US eCommerce, the economic impact of the Coronavirus in Q2 of this year is likely the next outgoing tide. Yes, we may see a near-term jump in eCommerce sales from a 'cocooning effect' of more people staying home, as in China. But be complacent at your peril - downward revisions for US GDP have begun with Goldman Sachs forecasting 0.9% in Q1 (down from 2.1% in prior Q4). Oh, and how's your 401K doing?
Still, strong managers take advantage of temporary downturns to retool operations and build wider competitive moats (right, Mr. Buffett?). And as sure as the tide comes back in, once the Coronavirus scare passes economic rebound will happen, likely in the second half of 2020.
So, you'll need to move fast, but that sound you're hearing outside your office is the capex budget freezing for next few quarters as your CFO tells you to make do with the operating budget you have.
The good news is that delivery & shipping options are one area where eCommerce merchants can earn out-sized returns in profits and customer loyalty with rapidly-deployed solutions (weeks, not months) funded out of operating expense (not capital) budgets that quickly pay for themselves.
Here are 4 suggestions for what you could be doing:
Upgrade vs 'Free Shipping': Incentivize shoppers to pay for basic shipping over Free
A (smartphone) scroll too far: Place delivery messages on PDPs higher on the mobile page
Make Checkout work for you: Increase margin with dynamic shipping decisions (behind the scenes!)
Test first, then decide: Use A/B testing to convince skeptics and build internal support
With swimsuits on, let's dive in!
Incentivize shoppers to upgrade from "Free Shipping" to standard ground
While shoppers typically expect free shipping, they often accept delivery date ranges (ie., 3-7 business days) at Checkout. But with standard ground shipping from UPS or FedEx most packages arrive in 3 business days.
To address this, you can deploy FenixCommerce on your Checkout to calculate and dynamically display actual delivery dates on your website, personalized for each order. Keep your current 3-7 business day date range for the free shipping option, but now display the standard ground shipping option with actual delivery date directly below 'free' and charge $4.00 to $5.00.
When provided this specific choice at Checkout, 12% of shoppers are selecting standard ground over free. In effect, these shoppers will pay a few dollars to know when their order will arrive.
For most online stores, average ground shipping cost per order is around $5, which you pay every time a 'free shipping' order ships. If just 10% of your customers upgrade their shipping to standard ground and you charge $4.95 as shown in the above shipping method screen, you'd still earn $4,950 for every 10,000 orders your currently ship for free (10,000 orders x 10% x $4.95).
For those same 10,000 orders, the FenixCommerce SaaS-based solution can be integrated into your website in 2-3 weeks, where it will immediately begin generating an ROI far north of 100%.
Extend the delivery date solution all the way to your Product Detail Pages (PDPs) and you can also realize a 10% average increase in conversion.
Don't make me scroll!
Mobile phones & tablets will continue to be the device of choice for online shopping (65% of all 2019 eCommerce traffic, per SaleCycle data) even if shoppers are stuck at home for fear of shaking hands with a co-worker. Choose carefully where to put key information on your PDPs to align the message with your desired customer experience.
While testing the FenixCommerce solution, one client quickly found conversion to vary widely between desktop and mobile websites for the same Estimated Delivery Date (EDD) message on the PDP – they noticed the message was below the "Add to Cart" button, which on the mobile website was more than 2 scrolls down. The message was moved higher up the page and conversion improved 13% overall for the remaining A/B test period.
Another apparel brand client chose to move down their installment-pay offer below the "Add to Cart" button. Why? They wanted to use the space higher up on screen for the personalized EDD message after the item price. This provided a better customer experience for the expected order arrival and a more powerful conversion incentive.
Offer dynamic shipping options at Checkout
Not every customer requires 2-day/next-day service. Provide a 3-day delivery option for the continental US by intelligently combining shipping options of USPS Priority with UPS or Fedex ground services. This can really drive conversion while meeting customer expectations of fast/reasonable shipping, especially if you currently offer only overnight or 2-day air, in addition to standard ground.
Orders shipped using low-cost UPS or Fedex ground delivery will usually arrive in 3 days for customers in the same time zone as your warehouse. Use USPS Priority for the rest of the country, which is still much cheaper than 2-Day Air.
Another option is to dynamically offer free shipping promotions in the Cart/Checkout based on the order profitability using actual ship costs and gross margin of the items in Cart vs. a static free shipping $ threshold. If you currently offer free shipping for orders > $100, wouldn't you rather eat the lower ship-cost to convert a $90 scarf purchase with 50% gross margin, instead of the higher ship-cost of $110 leather boots with 30% gross margin?
Set up these options in your Checkout using coding rules in your existing WMS; or even easier, use FenixCommerce, which integrates directly into your Checkout and costs only cents per order.
Use A/B tests to convince your doubters
Even when you've identified a solid solution, fully covered by operating budget with fast payback, you may have to quickly convince your team or your boss that the solution will bring the desired benefits. So run an A/B test and show them the results.
If you are a $30M online retailer, you are likely averaging ~20,000 orders a month. Running a 2-week A/B test for any of the ideas listed above will garner you a test response size of 10,000 which is statistically significant within a +/- 1.0% margin of error. That level of accuracy should convince even the most skeptical of ocean swimmers!
You can likely develop and run this test, working with your technology partner or CRO firm, for less than $7500, using the test/targeting software your digital marketing team is likely already using. If running a properly designed 2-week A/B test wins support for a solution that can increase shipping revenue by 21% or conversion by 10% at scale, then this marginal cost is operating budget well spent.
-----
Downturns are never fun – but don't get caught swimming naked! We hope these fast, easy, operating-expense-funded ideas can prepare your business to take full advantage when the tide comes back in. Stay safe and if we at FenixCommerce can help in any way, please get in touch!
The FenixCommerce team has been back from RILA LINK2020 for over a week now, and we've finally had a chance to digest all we saw and distill it into five themes. Without further ado, here they are!
1. Supply Chain Innovations
Innovation was a big topic in this year's RILA LINK, with speakers from Levi's, Hershey, and Abercrombie & Fitch weighing in on the importance of supply chain innovation.
"If you don't innovate, you die" said Chip Bergh, CEO of Levi's. Bergh later discussed the innovative measures Levi's is taking to make a more sustainable supply chain, such as their ability to reduce water usage by 96% during denim processing. They have also ditched certain chemicals, opting for lasers to give their jeans a worn look, while also allowing customers the option of extra personalization.
Hershey Vice President Susanna Zhu also covered her company's supply chain innovation efforts, noting that Hershey has invested $800 million in its supply chain in order to make the company's manufacturing processes more agile. And from Abercrombie & Fitch, Larry Grischow, SVP of Supply Chain and Procurement, and Lauren Morr, Group VP, IT Strategy gave a talk entitled "Building a Culture of Innovation at Abercrombie & Fitch", in which they detailed lessons learned from their experience developing a strategic, mindful approach to innovation.
Other supply chain innovations that particularly impressed us at the conference include Gatik's autonomous vehicles for short-haul logistics, Invent Analytics price and inventory optimization (which ended up winning the startup innovation award), and Magazino's distribution center picker.
2. CoronaVirus
If you work in the supply chain space, you are certainly familiar with the recent disruption caused by the CoronaVirus. Speaking on the topic was the chairman of Resilience360 by DHL, David Shillingford. Shillingford highlighted the impact of the CoronaVirus on the world economy, and detailed the shifts in demand that China is currently experiencing. For example, there's been a large shift to eCommerce sites to purchase consumer goods as customers opt to stay inside and away from others. However, the biggest changes for businesses have been closures in Chinese borders, ports, and factories. Even if a business does not have a factory in China, they can still suffer -- for example, China supplies around 90 percent of raw materials to factories in Bangladesh.
To respond, Shillingford urges supply chain managers to map their supply chains. This helps to better understand where your suppliers are and even who their suppliers are so you can anticipate supply chain problems. On top of mapping your supply chain, simply reach out to your suppliers and see how the CoronaVirus is affecting them. Lastly, Shillingford notes to start using risk management practices in your supply chain operations. Supply chain impacting issues like CoronaVirus are never going to go away, so it's best to have a plan B in place.
3. The 800 lb Gorilla--of Logistics
Morgan Stanley Executive Director Ravi Shanker started his presentation by warning attendees about the threat posed by Amazon, and went on to elaborate: "Now before you say, 'Ravi, welcome to 1995,' let me clarify," he said. "I am not talking about the e-commerce threat, I am talking about the logistics threat."
Shanker noted that in 2019 Amazon shipped half of its packages in house. That would make them larger in shipping volume than FedEx by this year and "[larger than] UPS by 2022," Shanker forecasted. And there's much more to come -- Amazon is reportedly not finished investing in logistics. Shanker highlighted that Amazon plans to quadruple the size of its last mile delivery fleet in the near future, and he predicts that Amazon will use this network to provide logistics services to other businesses.
4. Diversity
This year's RILA featured a 'Women in Supply Chain Breakfast', with speaker Amy Carovillano of the Container Store. The topic was diversity, especially in upper level and C-suite positions. Carovillano noted that about 33% of women make up the supply chain workforce, however only 11% of upper level positions are held by women. Shortly after, the executive director emeritus of AWESOME (Achieving Women's Excellence in Supply Chain Operations, Management and Education) gave a few pointers to inspire women's role in the supply chain: 1. Help others understand the value of supply chain to the business; 2. Advocate for diversity; 3. Expand your network; and 4. Develop allies who are men. "[This is] about diversity in all areas, to make sure you have diversity of thought," Carovillano explained. "This is not about being altruistic. [Diversity] is a business philosophy."
5. Supply Chain Optimization
This was a recurring theme in many of the retailers' presentations; here are the ones that left the biggest impressions on us:
In "Value in the Supply Chain with an End to End Approach", Todd Greener, Global Supply Chain SVP from Foot Locker and William Kammerer, Principal from Deloitte Consulting shared the approach taken by Footlocker to digitally integrate its supply chain across merchandising, inventory, and distribution, resulting in an enhanced customer experience and ultimately improved financial performance.
In "Fast Adaptation and Responsive Growth", Brent Dorfman, ASOS Supply Chain VP, and Kraig Foreman, DHL Supply Chain Operations VP laid out how ASOS is continuously improving its supply chain even as its sales and footprint grow explosively across the globe.
In "Academy Sports + Outdoors' fast path to AI based inventory optimization delivers results", Academy Merchant Systems Operations VP John Jarrett and Invent Analytics CEO/Founder Dr. Gurhan Kok discussed how Academy leveraged Invent's AI inventory optimization solution to deliver a 4.6% increase in sales and 1% increase in inventory turns in just 13 months.
We learned more and made more great connections at RILA this year than we ever dreamed possible, and are already looking forward to next year (while hoping no virus or similarly unsettling topics will make our top 5 list!). If you attended the conference--or have thoughts on the themes we took away from it--please chime in in the comments, we'd love to hear from you! And for more of our takeaways from RILA LINK2020, check out last week's blog: The Coolest Stuff We Saw at RILA LINK2020.

It's a Wrap!
In case you missed it (shame on you!), FenixCommerce was in the house at the RILA LINK 2020 conference this year, with a snazzy kiosk on the Innovation Floor of the exhibit hall. Here's our CEO Akhilesh Srivastiva to prove it.
To say we saw a lot of cool stuff (by which I mean apps, vendors, service providers, presentations, marketing tchotchkes, and finger foods...it was a conference, you know the drill) would be a ridiculous understatement. But for us, the overarching theme at RILA this year was supply chain marketplaces. At FenixCommerce we see a lot of opportunity in the area of creating and optimizing markets for various supply chain services--especially in the last mile. And at RILA this year we ran into a lot of other start-ups who are going after those opportunities in truly innovative ways. Here are the ones we thought were most impressive.
OnRout: A Marketplace for Shipping Space
I'm going to go ahead and call OnRout the PriceLine of package delivery. I know that may sound a bit old-school (er, web 1.0?), but let's keep in mind we are talking about the last-mile logistics industry here. No one has done what OnRout is doing before--and no one (that I know of at least) has made accessible the benefit to shoppers, sellers, and the planet that OnRout's solution provides.
OnRout's solution is a real-time bidding platform for parcels, allowing carriers to submit bids for parcels that are going to addresses that are already on a route they are serving in a given delivery timeframe. By allowing carriers to more efficiently fill their trucks on a route-by-route basis, OnRout has been shown to reduce shipping costs by 10-40% and to reduce greenhouse gas emissions by up to 41%.
They get this goodness in front of the eCommerce shopper via an easily integrated API that seamlessly fits into sellers' rateshopping processes.
OnRout was founded by Jonathan Hessney, an INSEAD grad and Accenture alum with deep experience in parcel logistics on both the carrier and shipper sides of the industry. Check out www.onrout.com for more information.
Cahoot: A Marketplace for Inventory Space (and Fulfillment)
While OnRout is focused on the last-mile carrier for eCommerce orders, Cahoot is focused on last-mile positioning. The company has created a peer-to-peer network of eCommerce sellers that store inventory and ship orders for each other, yielding cost savings of up to 68% and order delivery timeframe improvements of up to 3.6 days.
Cahoot allows sellers of all sizes and locations to offer low-cost, one- or two-day delivery timeframes via the fulfillment network, and is especially attractive for eComm businesses participating in Amazon's Seller Fulfilled Prime (SFP) program, since it's a low-cost way to increase the geographic footprint of your fulfillment centers--thus avoiding the need to use overnight or 2-day courier services to get packages to buyers in the 2-day prime window.
But the coolest thing about Cahoot to us is that it has the potential to leverage the excess inventory and fulfillment capacity of tens of thousands of eCommerce sellers across the nation, using up storage and labor capacity that would otherwise go to waste while at the same time getting packages to buyers as quickly as possible--and helping sellers compete effectively against the 800 lb gorilla that sits snorting over the industry.
Cahoot was founded by Manish Chowdhary--also founder and CEO of the Pulse Commerce SaaS Order and Inventory Management Platform and is based in Bridgeport, CT. Visit www.cahoot.ai for more information.
Roadie: The Lyft of eCommerce Delivery
Roadie is--and this is strictly my own view--sort of the Lyft of eCommerce package delivery. I'm referencing Lyft specifically (instead of Uber as seems to be common nowadays for these sorts of comparisons) because I remember attending a talk by Lyft founder Logan Green where he said the original idea was to put a person in the empty seat of your car when you were commuting, to use that wasted space in a way that benefited both driver and passenger. And basically that's what Roadie does for eCommerce deliveries by leveraging people who are already making personal trips using their vehicles--benefiting the shipper and seller by lowering costs, often decreasing delivery times, and benefiting the environment by making all vehicles more full and cutting down on the need for delivery trucks, thereby reducing greenhouse gas emissions.
Roadie was founded by Marc Gorlin, a serial entrepreneur whose past companies you're probably familiar with, as they include Kabbage (working capital for SMBs) and PGP (a company formed to commercialize one of the most prevalent security standards used on the Internet). Roadie is headquartered in Atlanta; for more info please visit www.roadie.com.
But Wait, There's More
These are the companies we thought most relevant to the supply chain space we play in, but we'll have more to say on RILA LINK2020, so watch this blog--we'll soon be publishing our take on highlights of the conference sessions.
3/5/20 Update: For more on our RILA LINK2020 takeaways, check out The Top 5 Themes We Saw At RILA LINK2020.