Position your business to gain market share when the tide comes back
"Only when the tide goes out do you discover who's been swimming naked." Warren Buffett's sage observation on how it takes a crisis to sometimes reveal who is actually performing is a useful model for the impact on fast-growing eCommerce Retailers & Brands we are likely to see from the Coronavirus.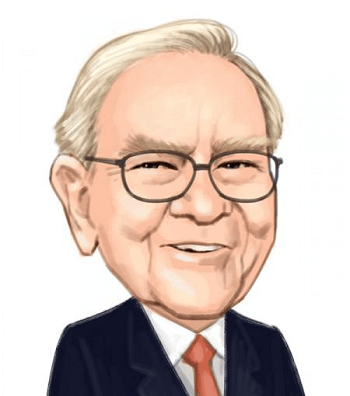 For US eCommerce, the economic impact of the Coronavirus in Q2 of this year is likely the next outgoing tide. Yes, we may see a near-term jump in eCommerce sales from a 'cocooning effect' of more people staying home, as in China. But be complacent at your peril - downward revisions for US GDP have begun with Goldman Sachs forecasting 0.9% in Q1 (down from 2.1% in prior Q4). Oh, and how's your 401K doing?
Still, strong managers take advantage of temporary downturns to retool operations and build wider competitive moats (right, Mr. Buffett?). And as sure as the tide comes back in, once the Coronavirus scare passes economic rebound will happen, likely in the second half of 2020.
So, you'll need to move fast, but that sound you're hearing outside your office is the capex budget freezing for next few quarters as your CFO tells you to make do with the operating budget you have.
The good news is that delivery & shipping options are one area where eCommerce merchants can earn out-sized returns in profits and customer loyalty with rapidly-deployed solutions (weeks, not months) funded out of operating expense (not capital) budgets that quickly pay for themselves.
Here are 4 suggestions for what you could be doing:
Upgrade vs 'Free Shipping': Incentivize shoppers to pay for basic shipping over Free
A (smartphone) scroll too far: Place delivery messages on PDPs higher on the mobile page
Make Checkout work for you: Increase margin with dynamic shipping decisions (behind the scenes!)
Test first, then decide: Use A/B testing to convince skeptics and build internal support
With swimsuits on, let's dive in!
Incentivize shoppers to upgrade from "Free Shipping" to standard ground
While shoppers typically expect free shipping, they often accept delivery date ranges (ie., 3-7 business days) at Checkout. But with standard ground shipping from UPS or FedEx most packages arrive in 3 business days.
To address this, you can deploy FenixCommerce on your Checkout to calculate and dynamically display actual delivery dates on your website, personalized for each order. Keep your current 3-7 business day date range for the free shipping option, but now display the standard ground shipping option with the actual delivery date directly below 'free' and charge $4.00 to $5.00.
When provided this specific choice at Checkout, 12% of shoppers are selecting standard ground over free. In effect, these shoppers will pay a few dollars to know when their order will arrive.
For most online stores, average ground shipping cost per order is around $5, which you pay every time a 'free shipping' order ships. If just 10% of your customers upgrade their shipping to standard ground and you charge $4.95 as shown in the above shipping method screen, you'd still earn $4,950 for every 10,000 orders your currently ship for free (10,000 orders x 10% x $4.95).
For those same 10,000 orders, the FenixCommerce SaaS-based solution can be integrated into your website in 2-3 weeks, where it will immediately begin generating an ROI far north of 100%.
Extend the delivery date solution all the way to your Product Detail Pages (PDPs) and you can also realize a 10% average increase in conversion.
Don't make me scroll!
Mobile phones & tablets will continue to be the device of choice for online shopping (65% of all 2019 eCommerce traffic, per SaleCycle data) even if shoppers are stuck at home for fear of shaking hands with a co-worker. Choose carefully where to put key information on your PDPs to align the message with your desired customer experience.
While testing the FenixCommerce solution, one client quickly found conversion to vary widely between desktop and mobile websites for the same Estimated Delivery Date (EDD) message on the PDP – they noticed the message was below the "Add to Cart" button, which on the mobile website was more than 2 scrolls down. The message was moved higher up the page and conversion improved 13% overall for the remaining A/B test period.
Another apparel brand client chose to move down their installment-pay offer below the "Add to Cart" button. Why? They wanted to use the space higher up on screen for the personalized EDD message after the item price. This provided a better customer experience for the expected order arrival and a more powerful conversion incentive.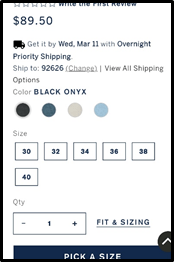 Offer dynamic shipping options at Checkout
Not every customer requires 2-day/next-day service. Provide a 3-day delivery option for the continental US by intelligently combining shipping options of USPS Priority with UPS or Fedex ground services. This can really drive conversion while meeting customer expectations of fast/reasonable shipping, especially if you currently offer only overnight or 2-day air, in addition to standard ground.
Orders shipped using low-cost UPS or Fedex ground delivery will usually arrive in 3 days for customers in the same time zone as your warehouse. Use USPS Priority for the rest of the country, which is still much cheaper than 2-Day Air.
Another option is to dynamically offer free shipping promotions in the Cart/Checkout based on the order profitability using actual ship costs and gross margin of the items in Cart vs. a static free shipping $ threshold. If you currently offer free shipping for orders > $100, wouldn't you rather eat the lower ship-cost to convert a $90 scarf purchase with 50% gross margin, instead of the higher ship-cost of $110 leather boots with 30% gross margin?
Set up these options in your Checkout using coding rules in your existing WMS; or even easier, use FenixCommerce, which integrates directly into your Checkout and costs only cents per order.
Use A/B tests to convince your doubters
Even when you've identified a solid solution, fully covered by operating budget with fast payback, you may have to quickly convince your team or your boss that the solution will bring the desired benefits. So run an A/B test and show them the results.
If you are a $30M online retailer, you are likely averaging ~20,000 orders a month. Running a 2-week A/B test for any of the ideas listed above will garner you a test response size of 10,000 which is statistically significant within a +/- 1.0% margin of error. That level of accuracy should convince even the most skeptical of ocean swimmers!
You can likely develop and run this test, working with your technology partner or CRO firm, for less than $7500, using the test/targeting software your digital marketing team is likely already using. If running a properly designed 2-week A/B test wins support for a solution that can increase shipping revenue by 21% or conversion by 10% at scale, then this marginal cost is operating budget well spent.
-----
Downturns are never fun – but don't get caught swimming naked! We hope these fast, easy, operating-expense-funded ideas can prepare your business to take full advantage when the tide comes back in. Stay safe and if we at FenixCommerce can help in any way, please get in touch!