The 2022 holiday season is imminent and we expect the rush to be massive as always. During peak season, carriers will most likely have their hands full as they deal with an influx of packages that have to be sent out to final consumers.
To reduce the usual strain on carriers and merchants arising from a spike in orders this 2022 holiday rush (especially from last-minute shoppers), the major carriers have released their eCommerce shipping cutoff dates. If you are a retailer, these deadlines will help you plan and manage your fulfillment activities early enough so you can keep delivering on time.
You can learn more about how to navigate these deadlines and give your customers a memorable shipping experience this coming holiday season by reading our blog which discusses how to manage shipping cutoff dates and customer expectations.
Holiday shipping cut-off dates for USPS, FedEx, and UPS 2022
USPS, FedEx, and UPS have all announced their shipping cutoff dates for the 2022 holiday season. Below, we have provided a rundown of the deadlines for each carrier.
USPS 2022 holiday shipping cutoff dates for USA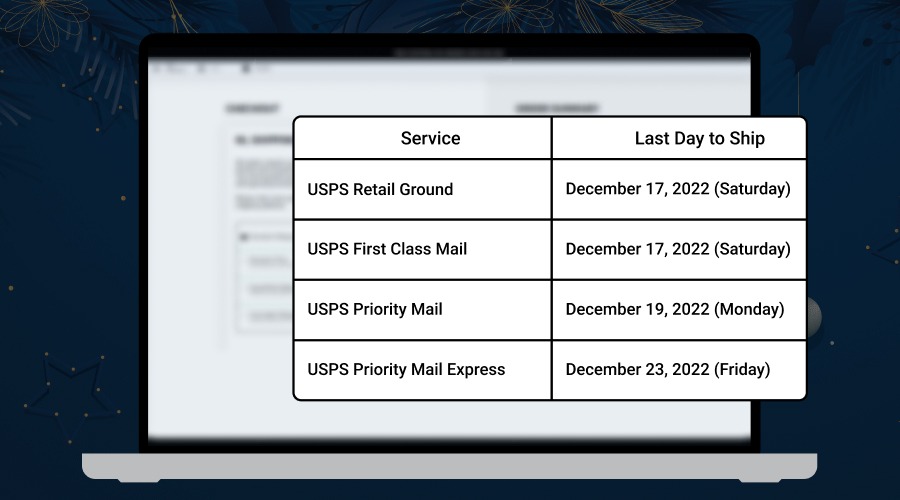 To see the full list of domestic and international shipping deadlines for USPS, download the aggregated holiday shipping calendar
FedEx 2022 holiday shipping cutoff dates for USA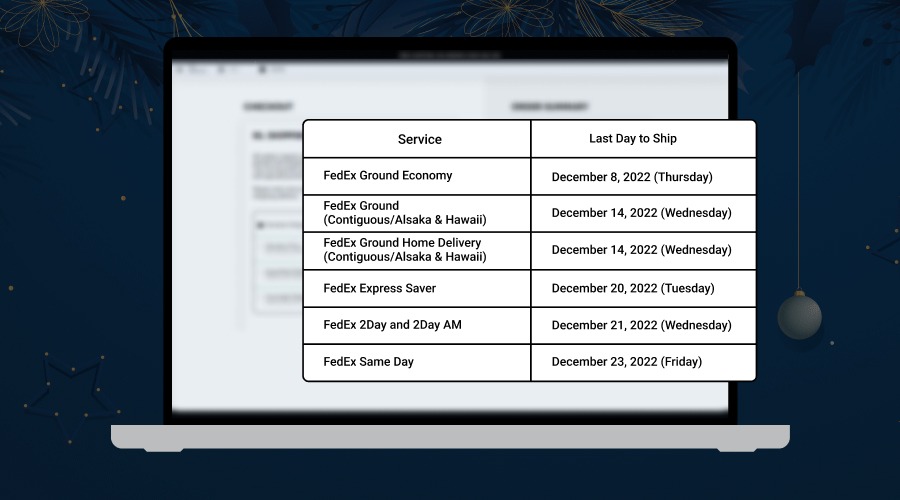 To see the full list of domestic and international shipping deadlines for FedEx, download the aggregated holiday shipping calendar
UPS 2022 holiday shipping cutoff dates for USA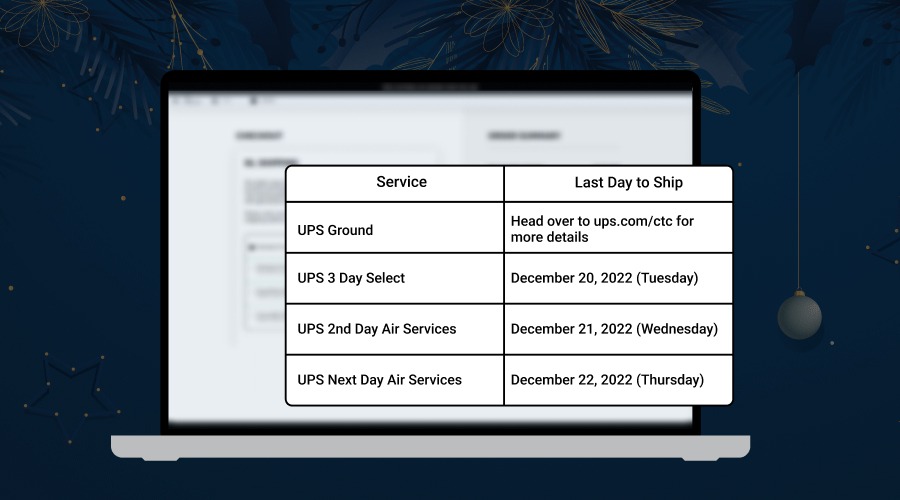 To see the full list of domestic and international shipping deadlines for UPS, download the aggregated holiday shipping calendar
Download the FenixCommerce
AGGREGATED HOLIDAY SHIPPING CALENDAR
For all the major carriers
What to keep in mind ahead of the 2022 holiday season
Although more consumers are heading back into brick-and-mortar stores after the pandemic, online shopping will more than likely see the bulk of consumer spending during the holidays. And with Black Friday a special part of the end-of-year buying spree, it is bound to be a jolly good season for eCommerce merchants.
Consider some key things that your customers will expect this coming holiday: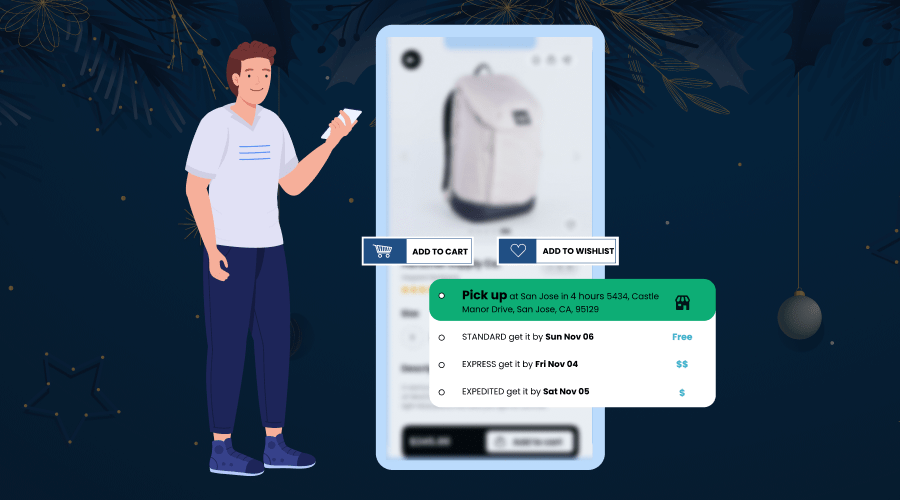 92% of shoppers are more compelled to buy from you if they know that their order will arrive by the promised delivery date. The only way to build customer confidence and trust in your ability to fulfill their orders on time is to desist from providing EDDs that contain words like: "ships in 3-5 days." Instead, start displaying smart, accurate delivery date estimates at checkout that are in sync with your carrier holiday cutoff dates. Transparency with delivery dates is how you can get more customers to choose you ahead of your competitors.
Customers also want to know how quickly their orders will arrive. Will it be the same day, the next day, two-day, or something else? 77% of consumers say they would be compelled to buy from a retailer if their shipment could arrive within 2 days or less. Other than that, 'choice' is important to customers as well because they want to be able to have a say in where and how their shipment gets delivered. Based on research, consumers are demanding flexibility in shipping options. To meet their expectations, make sure you're providing multiple shipping options across different service levels so customers can make choices based on how and where they want their orders delivered based on their needs per time.
Consumers are not focused on speed alone. 84% of consumers expect free shipping and are convinced to buy when it's in the picture. That makes free shipping an influential factor for consumers in deciding whether to buy from you or not. While providing the option to ship for free can help lower cart abandonment, it's common knowledge that shipping isn't entirely free. Someone has to pay the price. To make the situation a win-win for you and your customers, you can start by offering free shipping only when customers make a minimum purchase that exceeds your average order value (AOV) and then offer faster shipping to your customers as a premium service or an upgrade from a slower shipping method.
Whether you're looking to get more customers to checkout by guaranteeing delivery dates or offer multiple shipping options (including free shipping) that provide speed and flexibility during the 2022 holidays and beyond, FenixCommerce has got you covered.
By monitoring your inventory levels, warehouse location, product parameters, and carrier contracts, our Delivery Management Software automatically provides accurate EDDs on your product, cart, and checkout pages while displaying the best shipping/pickup options for every order.
To help see how our platform can help provide a superior customer experience and increase conversions this coming holiday, we've have an ongoing FREE Subscription Program which allows you experience our software in action. Click HERE to see it for yourself.